Full beards aren't going out of style anytime soon! But there's a big difference between well-tamed, neat facial hair, and an unkept mess. That's why men are turning to these new beard straighteners, to keep wild beards under control.
These are essentially small heated straightening brushes (similar to the hair straightener brushes we've already reviewed). They are lightweight and easy to use.
You simply have to wait for them to heat up, and, with just a few downward strokes on your beard, you'll have a smoother, more "compact" beard that looks a lot neater. Every time my husband uses his, people ask him if he's trimmed his beard. In reality, just using the straightener allows all of the frizzy "side hairs" to comply and be part of the beard in a smooth fashion.
On top of that, men can even use these brushes on their regular hair. Just be careful not to burn your scalp!
Here are the best beard straighteners for men that are available on Amazon:
Best Beard Straighteners for Men List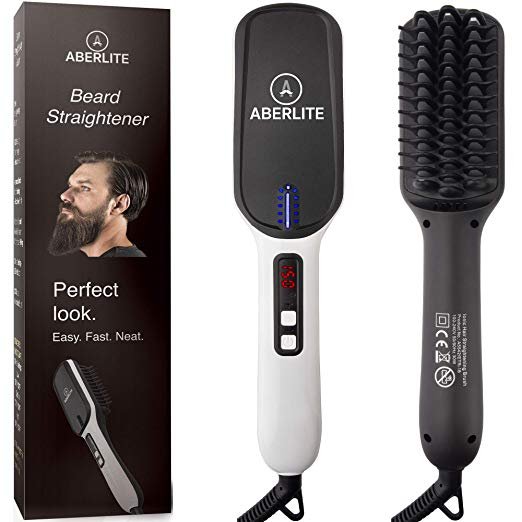 Check Price
The Aberlite beard straightener was designed specifically with big beards in mind. It heats up quickly, but is gentle enough on stubborn facial hair.
This beard hair straightener uses a unique PTC heating technology for consistent heat with every pass. It's also got an auto shut off feature after 30 minutes, so you never have to worry if you forgot to shut it off.
Aberlite Key Features:
Unique PTC heating technology for even
Ionic conditioning with anti-static coating for an easy glide through
Automatically shuts off after 30 minutes of discontinued use.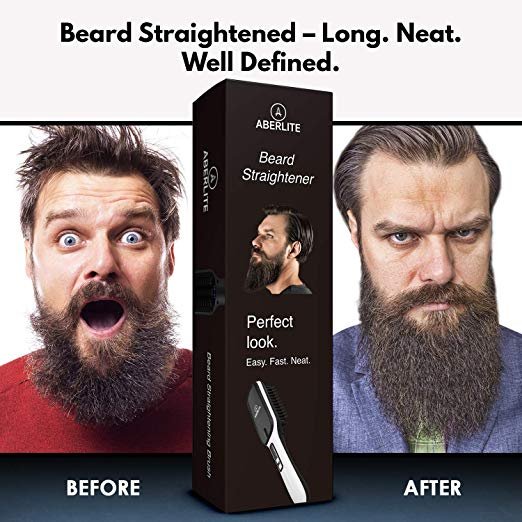 ---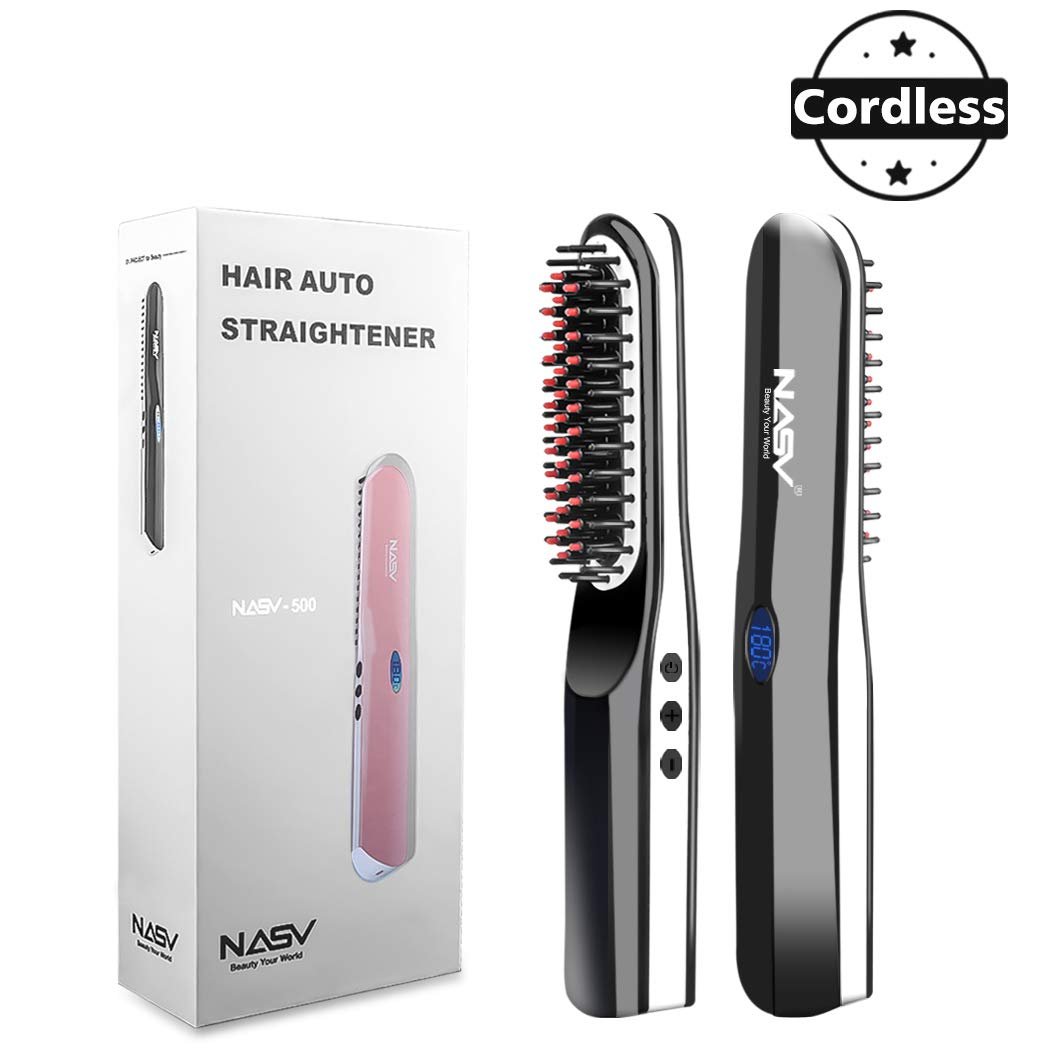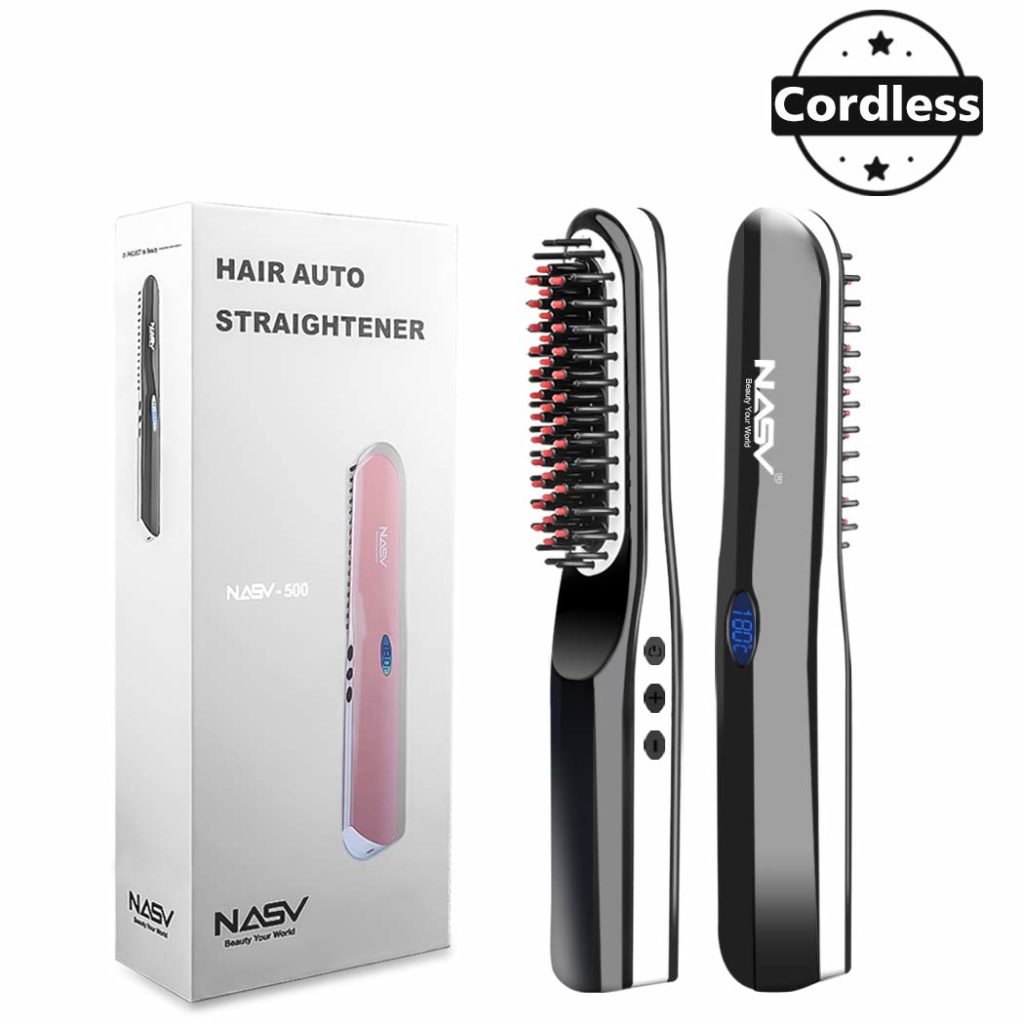 Check Price
The Suntee beard straightener is one of the best reviewed, because it's a cordless beard straightener brush. This is a lot more convenient for men who travel a lot, since not all hotels feature plugs in the bathrooms.
Suntee Beard Straightener Key Features:
Portable and cordless.
Uses Ionic Heat Technology which seals the hair cuticle, and enhance your beard's natural shine.
Auto-off and Auto Temperature Lock.
2 Year Warranty.
---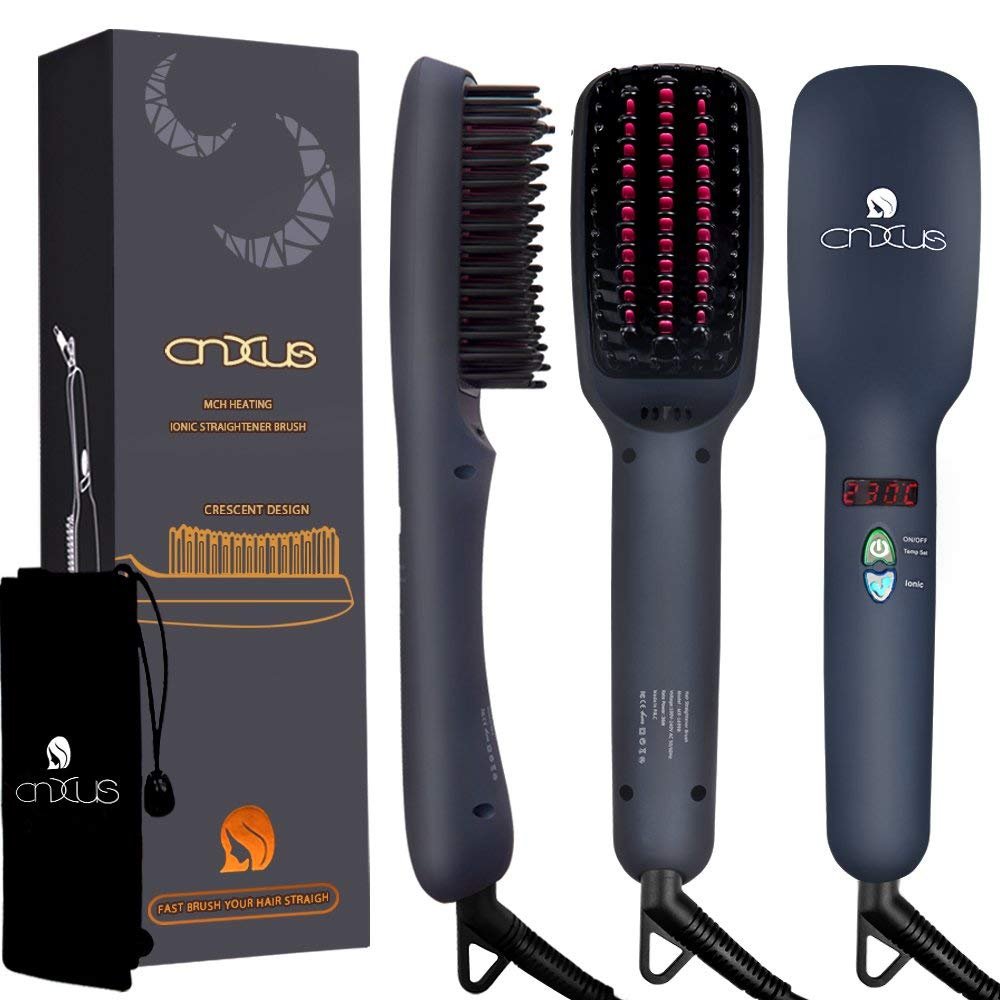 Check Price
The Ionic hair straightener brush is bulkier than some of the other brands, but it justifies its size (and higher price tag) by having a couple interesting features, like the LCD screen to control the temperature, as well as "ionic technology". This supposedly helps your beard hair be less frizzy, but I'm honestly not sure whether that's just marketing talk or if it actually works. My husband says he can't really tell a difference.
The one feature he likes though, is the swiveling power cord, which he says makes it easier to maneuver, especially when brushing the underside of his beard.
Ionic Straightener Brush Key Features:
Advanced MCH heating
LED screen with adjustable heat temperatures from 150℃(300℉) to 230℃(450℉)
Innovative design and 360° swivel power cord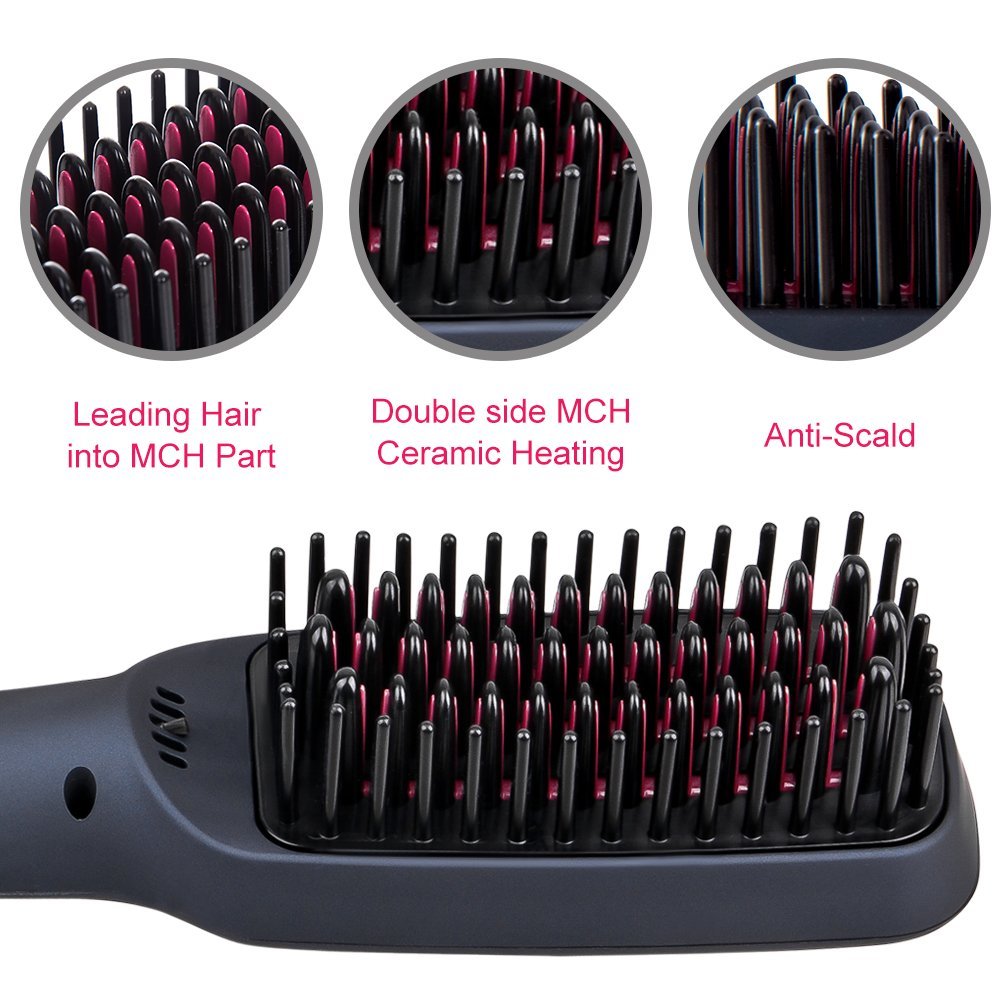 ---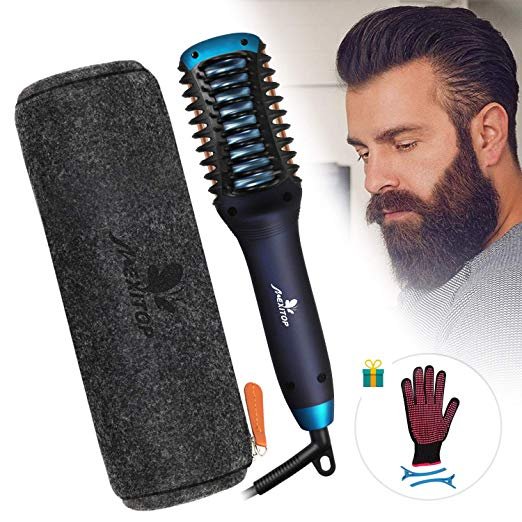 Check Price
The Mexitop hair straightener is a powerful little hair tool! It's small so it's easy to travel with, and uses 3-side heating and MCH technology, to get your iron heated faster.
Mexitop Beard Straightener Key Features:
Super small and lightweight size, with ergonomic design.
3 levels of adjustable temperature with LED indicator lights.
Extra security guard from auto shut off function after 25 minutes.
Bonus heat-resistant glove
Dual voltage for worldwide usage.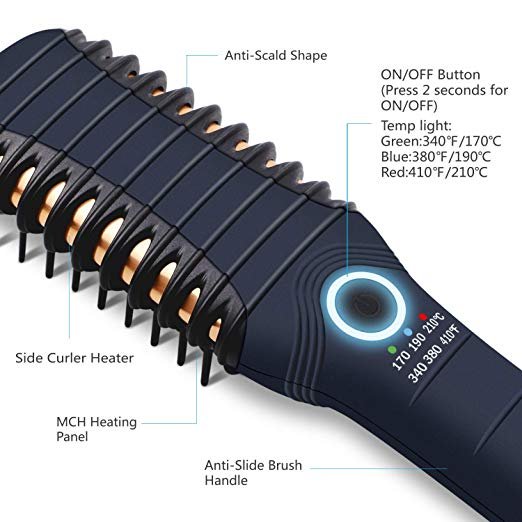 ---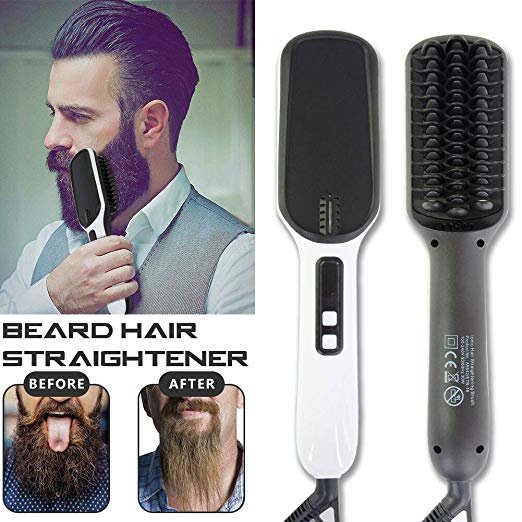 Check Price
The Forher beard straightener is specifically designed for facial hair, so that you don't burn your face or scorch your hair. It uses a double ionic generator to reduce split ends, and keep your beard hair looking healthy!
Forher Ionic Straightener Key Features:
Double ionic generator for healthy silky hair.
Heats up in less than 40 seconds heat.
Auto-off after 60 minutes and and auto temperature lock.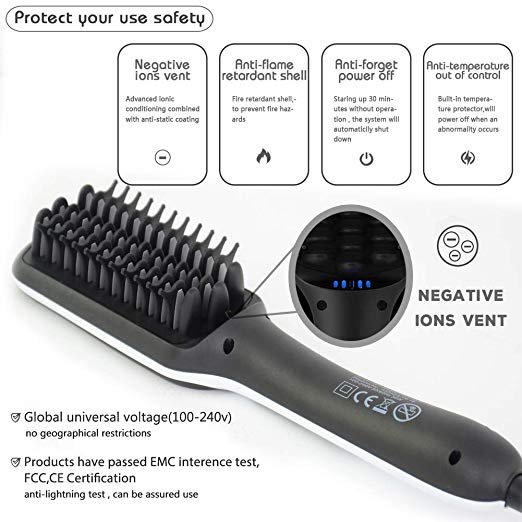 ---
We hope you enjoyed this review of the best beard straighteners out there! Remember just like with your hair on your heard your beard can use some love to look it's best!
And if you're looking for other hair straighteners, check out our latest post "Best Vibrating Flat Irons"