Big, bold, beautiful eyebrows are having a major moment right now. If you have sparse eyebrows, you've probably tried everything from pencils and gels trying to fill in the gaps. But there is a much easier way to get the brows of your dreams, by using an eyebrow tinting kit.
DIY eyebrow tinting at home is much simpler than it sounds. In fact, it is a trick many celebrities have used for years. Check out our tips for picking the best eyebrow tinting kit, and find out how to dye your eyebrows at home.
Contenders For Best Eyebrow Tinting Kit
We tested out three different eyebrow tint kits to see which one was easiest to use, and lasts the longest. Keep reading to find out which one was out pick for best eyebrow tinting kit.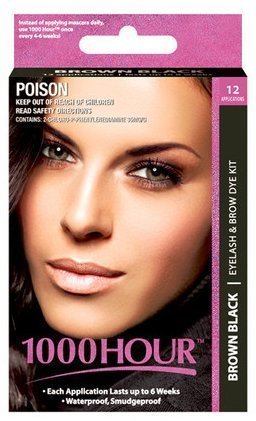 The 1000 hours Eyebrow Tinting Kit comes with everything needed to get bolder brows. The have a variety of shades, but I chose the brown black which is their best seller.
It was just dark enough to give my brows definition, but wasn't too dark. The dye was a little tricky to mix, but the directions are easy to follow.
My brows came out looking fantastic! The color was dark, but natural looking and the dye lasted about 5 weeks before I needed another application. This kit has enough for 12 applications, which is a great value.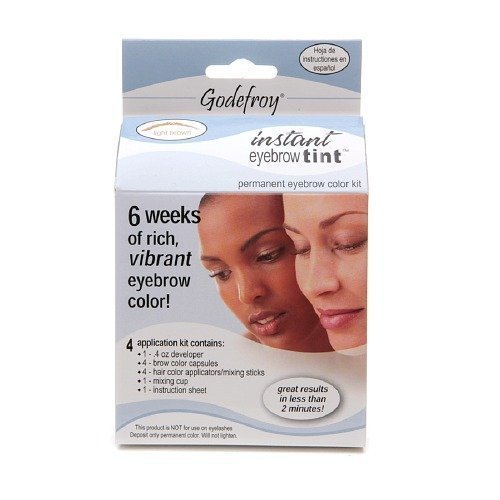 This eyebrow tinting kit from Godefrey is called instant tint because you can tint your brows in record time. It comes in several shades, but I chose the light brown. The dye was very simple to mix, and was ready to go in seconds.
This dye does work faster than some other brands, so it is very important to only leave it on for short periods of time. I worked one brow at a time, and left the dye on for 20 seconds until I reached the desired shade.
The results were actually more natural looking than the 1000 hours kit, and it lasted about 6 weeks. The box says it has enough for 4 applications, but if you use less you can stretch it further.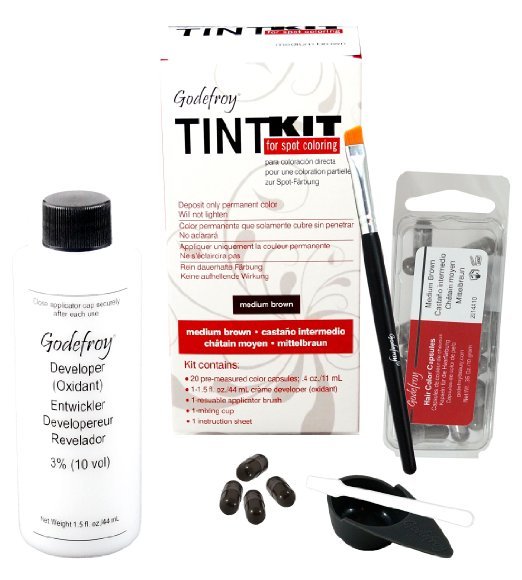 The Tint Kit from Godfrey is a professional level kit that you can use on any kind of facial hair. I was impressed that the kit contained so much product, and would certainly last me a long time.
I opted for the medium brown color, but they have a range from light brown to jet black. The formula was fairly simple to mix and they give you everything needed to get great results.
This dye does need to sit a bit longer than other brands, but it gives great results. I really loved using the small brow brush, which made application a breeze.
The results were a bit dark for my liking, but they lightened up within a few days. This faded within 4 weeks, however I have plenty to continue using for touch ups!
Winner of Best Eyebrow Tinting Kit
The best eyebrow kit overall was the Godefroy Instant Eyebrow Tint Permanent Eyebrow Color Kit. This kit was by far the easiest to use, and it also lasted the longest.
I think the shade was perfect for my brows, and did not make them look "overdone". If you'd like to find out how to use an eyebrow tinting kit- check out our guide below.
How To Dye Your Eyebrows At Home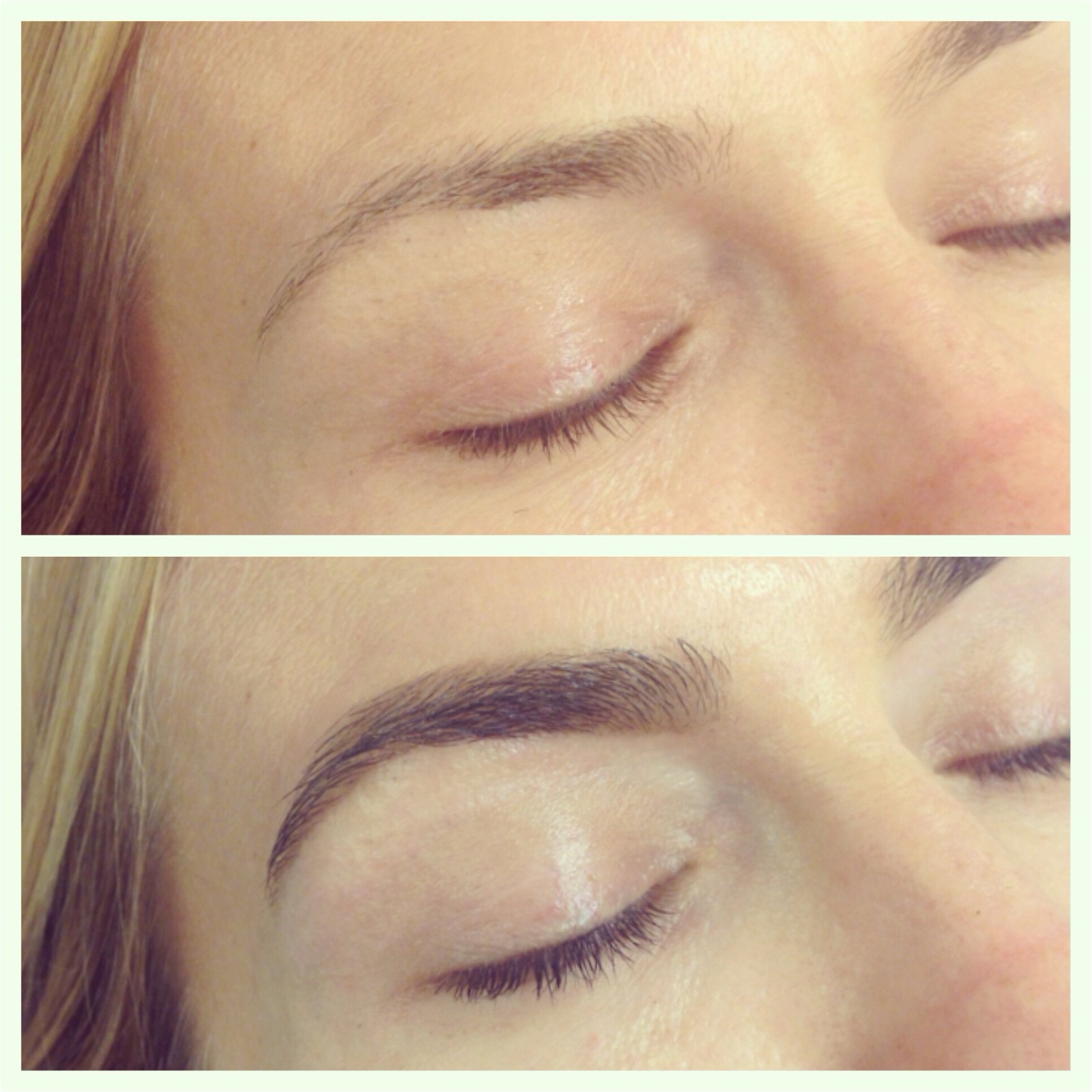 Step 1: Finding Your Eyebrow Dye
Choosing the right eyebrow dye is the first step to amazing brows. Choose a color that is one shade darker than your natural eyebrow color.
This will help define your brows, and ensure the dye still looks great even after it begins to fade. A good trick is to try to match your brow tint shade to the darkest hairs on your head.
Step 2: Prep Your Face
Wash your face with a mild cleanser that does not irritate you skin, and pull your hair back so that it's completely out of your face. You want your skin to be clean and dry so that the dye sticks properly.
Step 3: Prep Your Eyebrows
Don't pluck or tweeze just before tinting, that may irritate skin. Instead prep the skin around your brows by adding a light layer of Vaseline anywhere that you don't want the dye to end up.
This is a great insurance policy in case you accidentally get dye outside of the brow area.
Step 4: Prepare The Eyebrow Tint
Follow the directions on the package to prepare the dye. Make sure you have a clean work space and all materials laid out in front of you. Make sure you are in a well lit room, with a mirror handy.
Step 5: Apply the Eyebrow Tint
Starting at the largest part of you brows, apply the dye evenly using a spoolie or angled brush. Work your way from the start of the brow (closet to the nose) to the tips and cover every part evenly.
Step 6: Wait Before Removing Dye
Wait the proper amount of time as stated on the directions of your eyebrow tinting kit. If you want to have better control over the dye, you can wipe it away with a clean cotton pad after a shorter period of time and see if it the color you want. If you need more time simply re apply and wait
Step 7: Enjoy!
Once you brows have reached the color you want, wipe away all the dye with a cotton pad. From there you can tweeze or pluck the stray hairs, and comb your brows into the perfect shape.
If for some reason the dye came out a bit darker than you had hoped, relax! It will start to fade within a week, and you can use a makeup removing wipe to scrub a little color off over time. Hopefully you are left with the brows of your dreams, so go enjoy em!