If you've got the type of hair that doesn't hold much volume, you know the struggle all too well.
If you want to wear a style other than just stick straight hair, you're gonna have to tease and spray for hours just to get a style that will maybe hold up 30 minutes before deflating.
There is now a hair tool that promises to take care of all your volumizing troubles—The Voloom!
But does it really work?
To see if this innovative hair volumizer is right for you, check out my in-depth Voloom review below!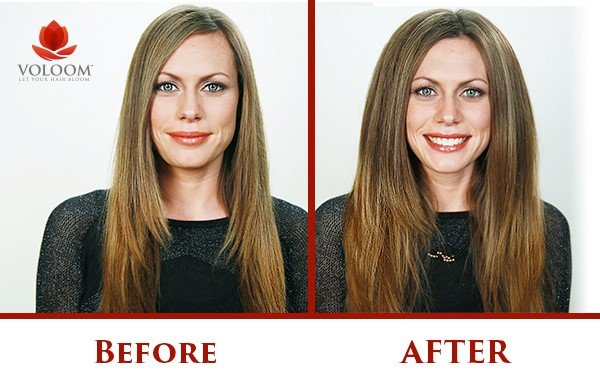 So, What Is The VOLOOM?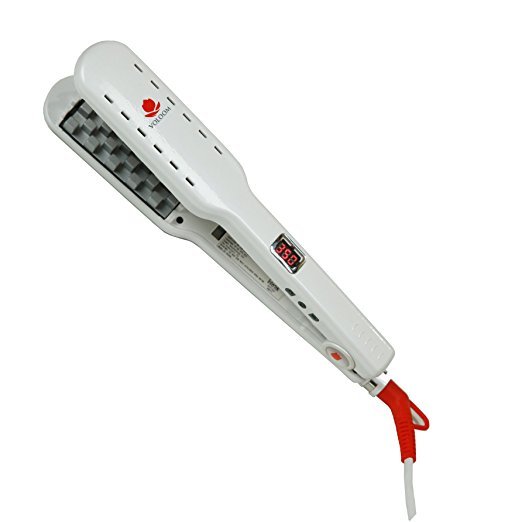 The Voloom is a one-of-a-kind hair styling tool, that was designed specifically to add beautiful volume to your medium-length to long hair.  Instead of using a ton of products like hair spray which can actually weigh down your hair after a while, the Voloom creates natural-looking "volume pockets".
The Voloom works to lift the top layer of your locks away from the scalp. Because it separates and lifts individual strands, it creates the look of healthy hair with gorgeous natural volume.
How Does Voloom Work?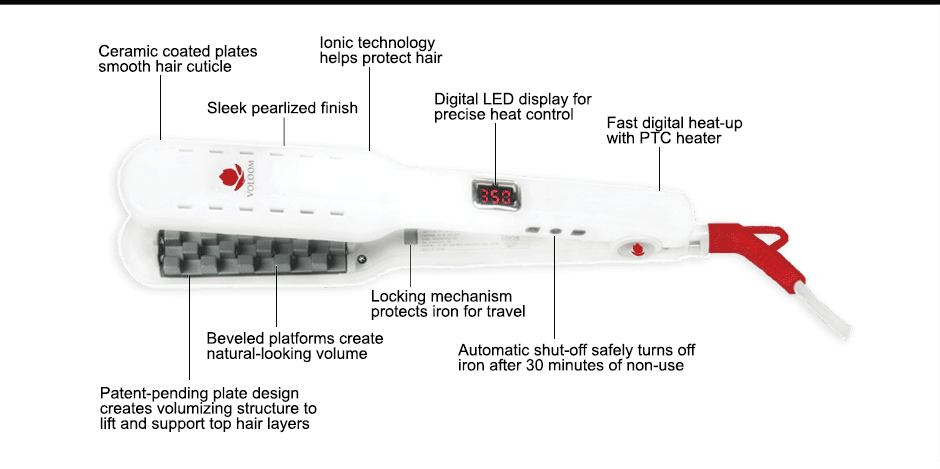 The secret to the Voloom's success is all found in its unique styling plates. The Voloom's plates are optimized to give your hair volume and structure without leaving the typical sawtooth pattern of crimpers.
Voloom plates are revolutionary because they create alternating platforms on your locks. Because these plates have beveled edges that work to delicately bend the hair, they create a much more natural-looking pocket of volume. This lifting technique is what makes the Voloom Hair Volumizing Iron, the best way to invigorate limp strands to hold style.
It's also a great tool because, you simply style your hair as normal, and use Voloom as the final step to add sky-high volume, subtle lift, or anything in between! Keep reading to see how to use this amazing hair volumizing iron, in my Voloom review below.
My Voloom Review – Does It Work or Is It a Scam?
Before we get into the nitty-gritty of my experience with the Voloom, let's take a look at how it works, since your results may vary based on how well you use it!
How To Use The Voloom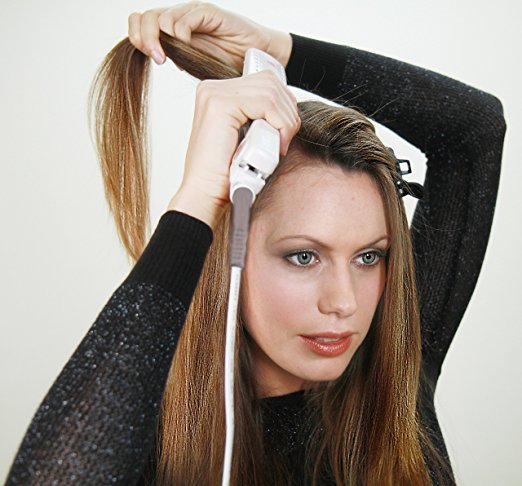 I was really excited to test out this product because, ever since I colored my hair last, it hasn't been holding my style nearly as well. I was happy to see that it is easy to control how much volume you want to add, and I watched a few video tutorials, and Voloom review videos beforehand to see how it's done.
My hair is long, so it was the perfect starting point. If your hair is shorter than medium length it may be more difficult to use the original Voloom, so keep that in mind. If your hair is shorter, they do have a Voloom petit version, which works great for bobs, pixie cuts, and other choppier styles.
I washed and blow-dried my hair, and then flat-ironed it as I normally would. It is important to start out your style with clean dry hair, however, if it's been a day or two since you've washed your hair it'll be fine. For some people with thinner more fine hair, their hair holds style even better when it hasn't been washed in a few days!
The Voloom has a digital temperature setting, so you'll need to turn it on and set your range before beginning. They suggest you follow these guidelines depending on your hair type.
Fine, thin, or damaged hair: 320-350 degrees F
Normal, medium, healthy hair: 350-370 degrees F
Thick, coarse, or curly hair: 370-390 degrees F
My hair has been damaged from bleaching, so to play it safe I left it at 330 degrees. Since Voloom is not meant to be used on the top layer of hair, but on the lower layers, you'll need to begin by clipping the top layer to one side. Once you've gathered up the hair you'll be working with, it's time to go to town!
I began by parting my hair as normal and then flipping the top layer of hair on my left side, over to the right side of my head. Then working in small 1-inch sections, I clamped the Voloom at the strands close to my scalp, held for a few seconds, and slowly worked my way down.
You need to open and reclamp the iron each time, not slide it down as you would a flat iron. I stopped about three-fourths of the way down my hair since I wanted the tips to be sleeker. Since I wanted only a slight lift-up, I just did one lower layer of my hair. If you want to step up the volume, you can separate hair into multiple lower sections, but remember to leave that sleek outer layer to enhance your look.
Something else I wanted to mention in this Voloom review is that if you ever think it's a little too much volume for your liking, you can always step it back down a notch. For areas that are too big, you simply grab a brush and gently brush out those areas. This technique will soften up those "volume pockets" and bring you back to a more subtle look.
I also used the Voloom to tease the crown of my head for some added volume. It gave off a great chic sixties vibe, and I couldn't believe how much easier it was than tugging and pulling with a comb ( the traditional teasing method). I was happy that my hairstyle lasted all evening long, with just a little spritz of flexible hair spray. I recommend using a flex hold so you don't have a stiff helmet hair look.
Who Is The Voloom For?
The gals who will benefit the most from using the hair volumizing tool VOLOOM, are those with really fine, stringy, and limp hair. Ladies with lots of curls and volume probably won't get as much out of the Voloom as those with straighter hair.
The Voloom seems to work best on sleek straight hairstyles, or loose beach wavy hair. By keeping the top layer perfectly intact, and moving it out of the way to volumize the lower strands, hair will hold volume much longer than it would with just hair products.
Use the Voloom hair iron if your hair is past your shoulders or longer. If your hair is shorter than that, the plates may be too big for your hair, so opt for the petite Voloom.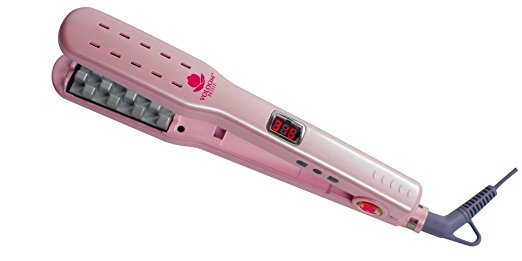 Conclusion
Overall, the Voloom will work best for people with damaged hair, limp hair, and those with naturally stick-straight hair. If, like me, you have lost a lot of texture due to color damage, the Voloom is a game-changer!
I hope you enjoyed this Voloom review! Did you try it? What were your results like? Let me know in the comments!