You have probaby seen the rising populairty of micellar water, and wondered what the heck it is! Is it a makeup remover? A cleanser? Mineral water? Keep reading to find out everything you need to know about micellar water, and see if it should make its way into your regular daily beauty routine.
What Is Micellar Water?
Micellar water also known as "micellar cleansing water" has been around for a long time, and was invented by the french to help deal with their harsh water.
The formula itself is made of micelles, which are tiny oil balls suspended in soft water. This mixture easily lifts dirt and grime, and cleanses skin without using harsh chemicals to strip the skin.
Micellar water is great at effectively remove a face full of makeup, with out any rinsing needed. Best of all it leaves behind fresh and radient looking skin. But some of these micellar waters work better than others, so which one is the best micellar water for you? Keep reading our guide to find out!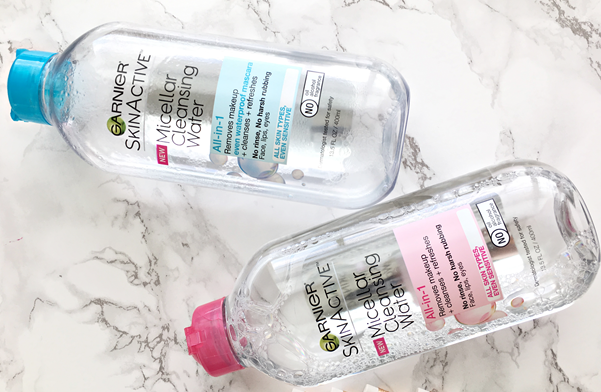 Check Price
The Micellar Cleansing Water from Garnier comes in normal, waterproof, and a new mattefying formula for oily skin. For this review I tested both the normal, and waterproof formulas. I began sampling the normal formula, by applying a generous amount to a clean cotton pad. I began with my stubborn eye makeup, consisting of a dramatic liquid eyeliner. With my usual makeup remover, I normally smear it until I give up and remove the rest with cleanser.
The Garnier Micellar Water was a nice change because it picked up most of my eyeliner with a gentle dab. I didn't have to do much moving around at all to lift all my shadow, liner, and mascara on to the pad.
Next I filled a new cotton pad filled with the micellar water to remove my foundation, and finally onto my lips. I didn't have very heavy makeup on my face or lips, but the formula did a great job of removing all that was left.
Afterward I thought my skin would feel itchy like it does after I use a makeup removing wipe. On the contrary, my skin felt clean but it did have a slightly oily shine. The next day, I tried the waterproof formula because I had been wearing both waterproof mascara and eyeliner. The Garnier waterproof micellar water did remove my eye makeup, but it did take a little more time than it had with the normal micellar water formula.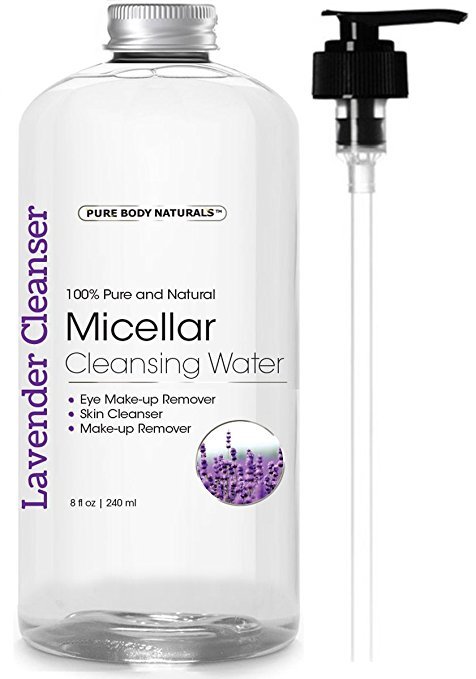 Check Price
This Micellar Water from Pure Body Naturals has a unique lavender scent. Though I have always loved the scent of lavender, I typically opt for fragrance free skin care products.
I applied a generous amount of the Pure Body Naturals Micellar cleanser through the handy pump and went to work removing my makeup. This micellar water did a great job of removing my eye makeup, however it had a tougher time removing my foundation.
Overall I really enjoyed the lavender scent, and the handy pump is a real time saver. I would say that this micellar water is better suited for people who do not have sensitive skin because they may be irritated by the lavender fragrance.

Check Price
VICHY is a very popular brand in Europe, where micellar water originated. It is called a 3-in-1 solution because like other micellar waters, it acts as a cleanser, facial toner, and makeup remover. The larger size bottle comes equipped with a handy pump making it easy to use.
I applied the Purete Thermale Micellar Water to a clean cotton pad, and began to wipe around my eye area. I found that this particular brand seemed a little less oily, than the others I had tried so far.
It did take a little more swiping to remove my makeup however my skin felt amazing afterwards. The formula itself is enriched with cornflower extract and Pro-Vitamin B5 which seemed to really soothe and hydrate my skin.
This is definitely a great option for people with sensitive skin, and after using I noticed reduced redness in some of my breakout areas. I really liked that my skin felt clean and refreshed after use, but not tight like it does after using cleanser + toner.

Check Price
La Roche-Posay is another successful european brand that has been in the micellar water game for quite some time. The formula contains spring water highly concentrated in Selenium, which is rich in antioxidants and soothing properties.
I was surprised that this brand isn't much more expensive than the others, and comes in three handy sizes. I began removing my makeup with a clean cotton pad that I had saturated with the La Roche-Posey Micellar Water.
This formula does not have an added fragrance, however I noticed it has a natural fresh scent to it. It did a great job at removing my eye makeup quickly, and the same for the rest of my face.
Afterward I was happy there was no oily residue left over, and my skin felt fresh and clean. Additionally my skin felt very soft like it does after I apply moisturizing cream, but without the added step.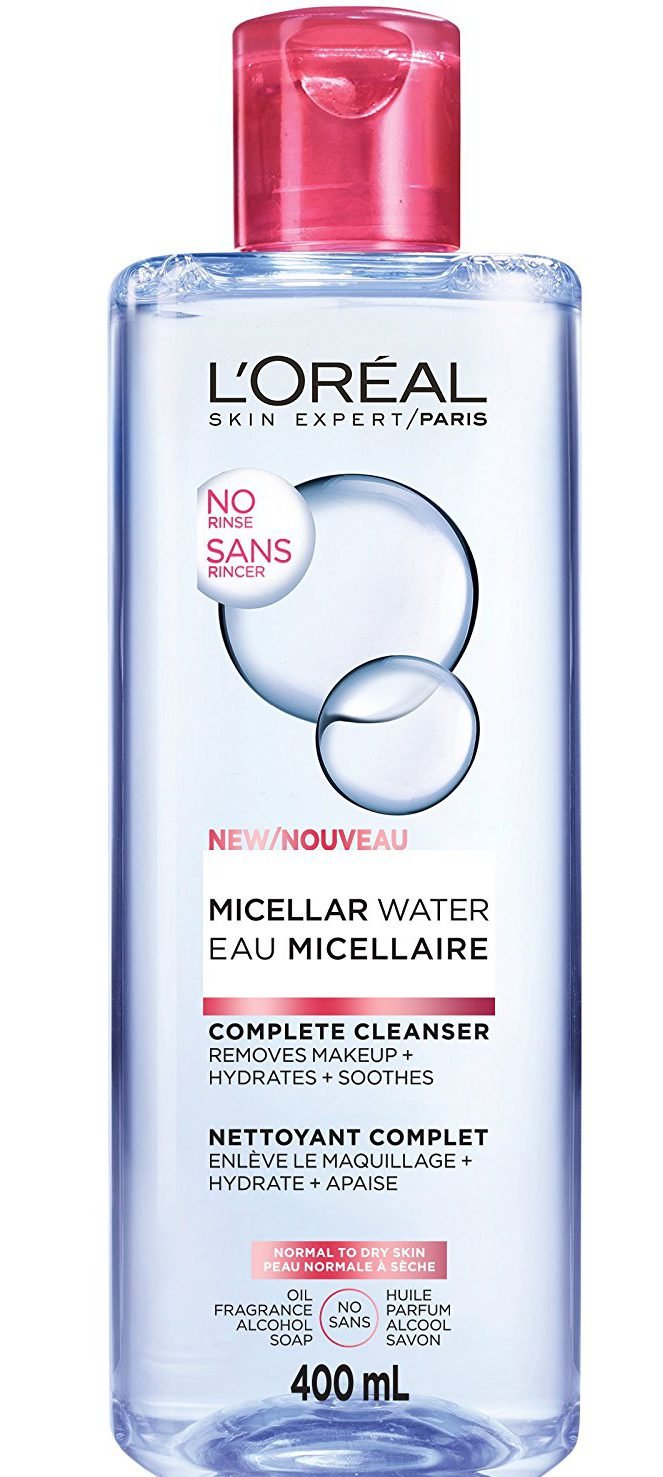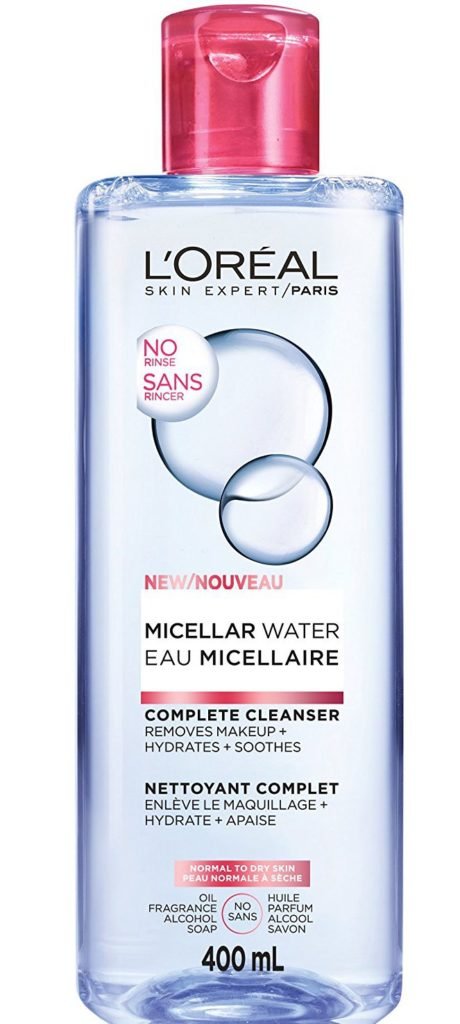 Check Price
The final micellar water I checked out was the Complete Cleanser Micellar Water from L'Oreal Paris. I opted to use the formula for normal to dry skin, however they have two other formulas, one for waterproof makeup, and another for normal/oily skin.
This micellar water is fairly inexpensive, and claims to hydrate and soothe skin in addition to cleansing and removing makeup. I found that it took off my eye makeup fairly quickly, but not as quickly as with some of the others.
It did however remove my face makeup as quickly as the others were able to. While overall I think this product works well to remove makeup, it did leave my skin feeling a bit dry. I did have to apply moisturizer after using this L'Oreal Micellar Water- a step I was able to skip with some of the other brands.
Best Micellar Water
Overall each one of the micellar waters did a great job of removing my makeup, yet only one seemed to improve my skin after use! The winner for best micellar water goes to..

Check Price
The winner for best micellar water had to go to the VICHY Purete Theremale Micellar Water. The bottle has a nice design, and using the hand pump made my cleaning routine go by much faster. It removed all my makeup easily, and afterwards my skin feeling hydrated and clear.
I really enjoyed the calming effects or this water, and noticed redness disappeared. To top it off, the price point is quite comparable to the brands made in the united states. I will definitely be using this micellar water from VICHY product as part of my regular skincare routine.
Tips for using Micellar Water
A few tips from my experience trying micellar water:
Always use with a clean cotton pad. Cotton balls absorb too much of the product, and do not work as well.
If you wear heavy foundations, you may need to use multiple cotton pads. I wear a powder foundation so I didn't have any issues but heavier makeup will require more time spent.
You can use micellar water as a toner in the middle of the day- and it is a nice way to refresh your face quickly without drying it out!
Overall micellar water is a great product, especially for people who travel, and may not have access to running water. Women who have busy schedules and don't have time to spend at the sink applying 3 different products would also benefit greatly from trying out micellar cleansing waters!