It's the worst when you've got skin dry and itchy skin, or when your oily skin brings on embarrassing black heads and pimples!
I don't know about you, but my skin gets ways more oily during the warm months! This change in my skin, mixed with all the sunscreen is a recipe for breakouts and irritated skin. Fortunately, the solution to my summer skin woes is here!
Clay Masks have been used for years to calm skin issues, and leave your face feeling soothed and refreshed! Check out which ones are the best in our 'Best Clay Mask' Reviews!
This Aztec Clay Mask has been one of the most popular for years, and has quickly become a cult beauty favorite as the best clay mask among style editors. It's called the "World's Most Powerful Facial" because this mask quickly strips skin of impurities that are causing breakouts! This mask is meant to be mixed with water, or apple cider vinegar to develop into a paste, that can be applied over clean skin. It's made with soothing Bentonite clay that leaves skin looking clear, calm, and refreshed.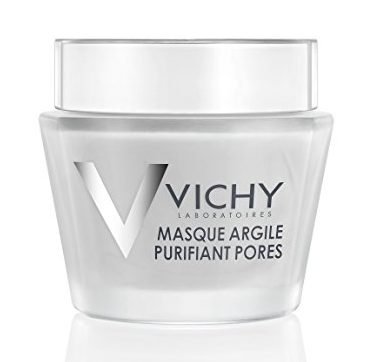 European beauty lovers are obsessed with the healing power of this mineral clay mask by Vichy. It combining two ultra-fine white clays with the powerful Vichy mineralizing thermal water (similar to micellar water). It works hard to remove impurities and purify pores, and over the first month, your pores will look much less visible! You should apply it on  the face, and wait for 5 minutes before rinsing. For best results use about once or twice a week.
You've probably seen this carbonated bubble clay mask mall over Instagram, because users always have an amazed reaction when the bubbling begins! It's probably the most fun mask to use, because it bubbles up and provides a pleasant tingling experience. It carbonates super fast, so you'll have to apply it to skin pretty quickly as you try not to giggle! It's one of the best clay mask brands around because it'll rid your skin of icky blackheads, and is so enjoyable to use you won't be able to wait until the next time. Use about once a week for best results!
This pure clay mask from L'Oreal is one of four new styles of powerful clay masks made by this beauty powerhouse. This mask is ultra powerful because it contains charcoal sourced from Japan that has some extraordinary powers to absorb impurities. It acts like a magnet on the skin to draw out all the bad stuff like dirt, oil, and pollution! Use it once of twice a week for best results, or you can even multi- mask, by covering different parts of your face with other clay mask formulas to create the perfect skin care combination.
This detox mask by Dermadoctor is like a spa in a jar. You've probably heard how great vitamin c is for protecting your skin, and this amazing mask uses kakadu plums which are chalk full of it. These plums contain on average 55 times the vitamin c of Florida oranges, and helps protect skin from environmental aggressors and free radical damage. This formula gently exfoliates and resurfaces your skin, leaving it smoother, brighter, and softer than ever before. Plus it smells amazing!
This new Clay mask from Geneva Naturals is super unique because not only does it free skin of impurities, but it also works to fight the look of aging skin! It's been featured in Allure magazine as one of the best clay mask formulas, as part of their "affordable yet luxurious" collection. It's because this mask works so hard to stimulate cell regeneration, and defend the skin from free radicals. It contains healing cranberry, passion flower, and Bentonite clay to leave skin looking youthful and firm! For best results use 1-2 times per week.
Easily one of the prettiest masks around right now, this awesome mask by Herbivore botanicals does wonders for your skin. It's filled with minerals, and the pink clay gently detoxifies and cleanses your skin making feel soft and nourished. It also contains rose petals and chamomile which reduces fines lines, and soothes inflamed skin. This pretty pink mask keeps skin hydrated, while helping heal and repair damaged skin, and can be used  2-3 times a week.
This clay mask from bliss is a unique formula that works to target six of the most common visible signs of aging: dark spots, dryness, dullness, visible pores, rough texture, and fine lines and wrinkles! It's one of the best clay mask brands because it helps to dissolve the dead skin cells, as well as clear blocked pores, and increase cell turnover to minimize visible lines. It is great to use in addition to your normal anti- aging routine, and should be left on for about 5-7 minutes before rinsing. For best results use this mask about 2 times a week to keep skin looking clear and youthful!
Summary
Reviewer
Review Date
Reviewed Item
Author Rating