The Hair Straightening Brush is a truly amazing new product. Why?
You're late and your friends are already waiting for you. You get out of the shower and it's a super humid day. Your hair is a rat's nest.
You wanna straighten it, so you plug in your conventional flat iron straightener. You wait and wait for it to warm up, which takes almost ten minutes. You start straightening. You rush it, and you go out (lest your friends kill you!)
You're in the club and you go to the restroom. You look in a mirror, and you see the back of your hair isn't straight at all!
What is the Hair Straightening Brush?
If you're here, chances are this has happened to you just as much as it's happened to me. So, I went ahead and bought a Hair Straightening Brush that I'd seen on TV. It's — pretty intuitively — a brush that straightens hair.
Now, there are a couple brands out there, with the Dafni being the most expensive ones, and Apalus and some other brands being much cheaper. These cheaper brands all pretty much look like the same product, so this review should apply to all of them.
Update: I also ended up trying the Dafni eventually – scroll to the bottom to read more about it.
So anyway, you may have seen the video that went viral on Facebook and Twitter. It makes this Hair Straightening Brush look almost magical. But is this fast hair straightener it really that wonderful? Let's find out!
I received my brush two days after ordering, very quick (and free) delivery.
The Hair Straightening Brush Unboxed
The packaging is really nice, and pretty essential. It contains the brush itself and an instruction manual.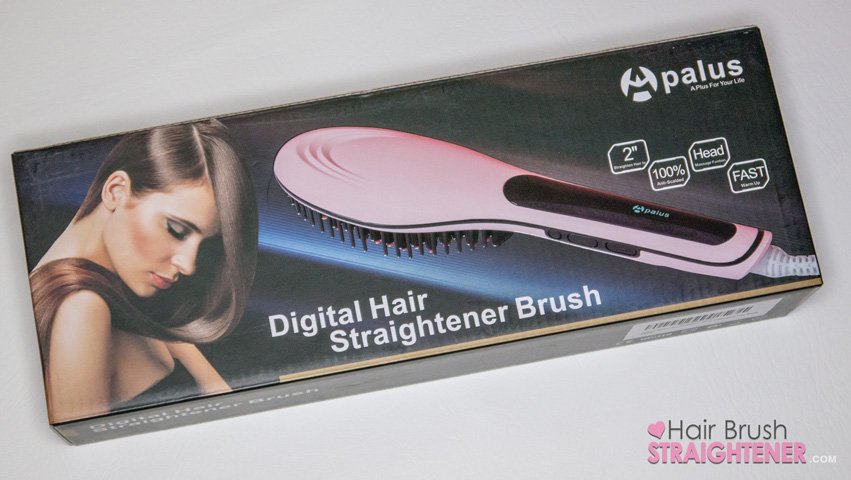 I opened it up and plugged it in. The plug is one of those safe tester plugs with the button. The cord also swivels, so it doesn't tangle, which is great — my flat iron cord is always jumbled.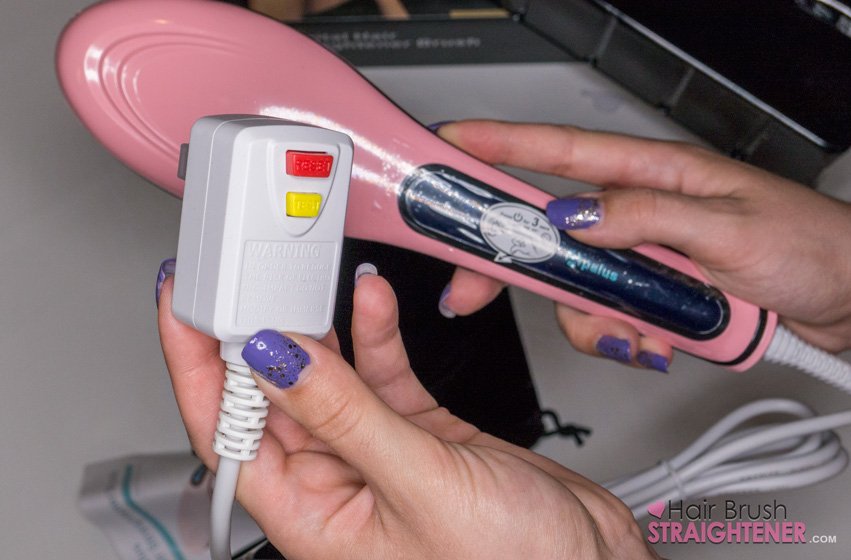 The LCD turned on and I noticed that, upon first start, the temperature is set in Celsius. To change it to Farhenheit, you simply press the "plus" and "minus" buttons at the same time.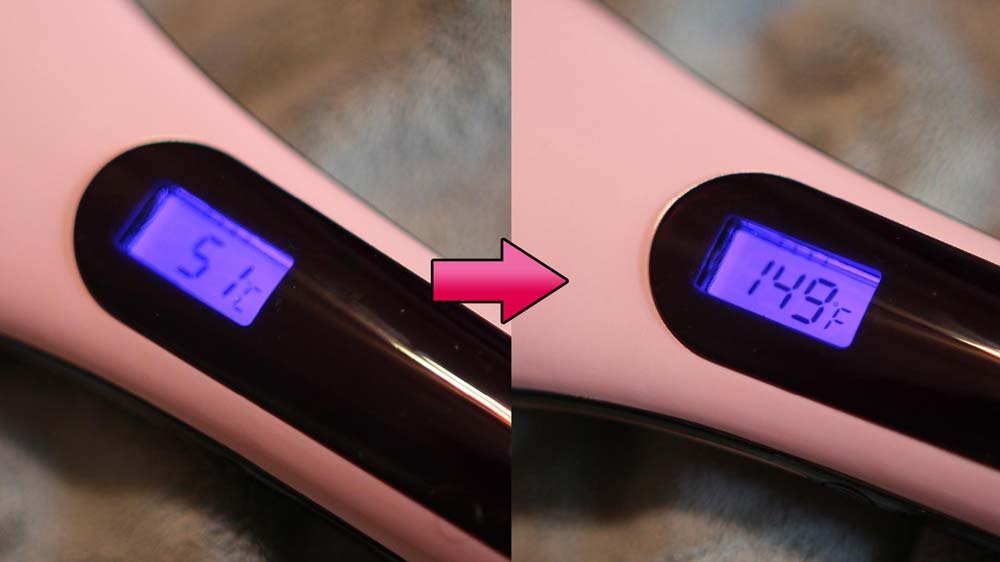 Now, every girl knows that a flat iron takes a while to heat up, but not the hair straightening brush: it reaches 365°F in 8 seconds! That is one of the things that saved me the most time.
The part that actually heats up is the base of the brush, which is a ceramic plate. There are plastic bristles all around, and those don't heat up. It's actually pretty impossible to scald yourself with this brush (a great thing for someone as clumsy as me). The red plastic studs in the bristles provide further protection, so that you can't even burn your head.
Using the Brush that Straightens Hair
Using the brush itself is a breeze. The hair straightener brush can be used on dry hair, but I found I preferred to use the brush with my hair still slightly damp. And I also found it works better after using a good protein conditioner. For the absolutely best results though, what you need is a keratin hair treatment. Doing the treatment and then using this hair straightening brush, I was able to get the longest lasting smoothness that I was after: even after the hair starts to curl back up, it sort "flows together" and isn't frizzy, which is nice.
The way it works is, you select the temperature with the plus and minus buttons and you get a readout on the LCD. I find that, in order to minimize frizziness, it's best to use the lowest temperature you can get away with.
Usually, I get the best results if I section out my hair. An individual strand will take around 2-3 brush strokes before it's straight to the point where I'm happy with it. It certainly is a fast hair straightener, because with my traditional straightener it took more passes to get it all straight.
If you have some areas that are a little harder to straighten, like the top part in the back of your head, you can just dial in a higher temperature just for those parts. And that's the great part: when you have a brush that straightens hair, all you have to do is brush the back of your head, and you will not get those creases that you get with a flat iron!
Now, the only thing that's not ideal is the placement of the buttons. They are on the side of the handle, exactly where you thumb will rest when using the brush. It's not unusual to change the temperature by hitting the buttons accidentally as you're using the brush straightener.
Other than that, the hair straightener brush has cut down the time it takes to straighten my hair by almost 20 minutes (no joke!)
A Quick Video Review
I shot a quick video review of the hair straightening brush, so you can check it out in action!
Where Can I Find the Hair Straightening Brush?
You can get the best price on the hair straightener brush here.
The price is really affordable!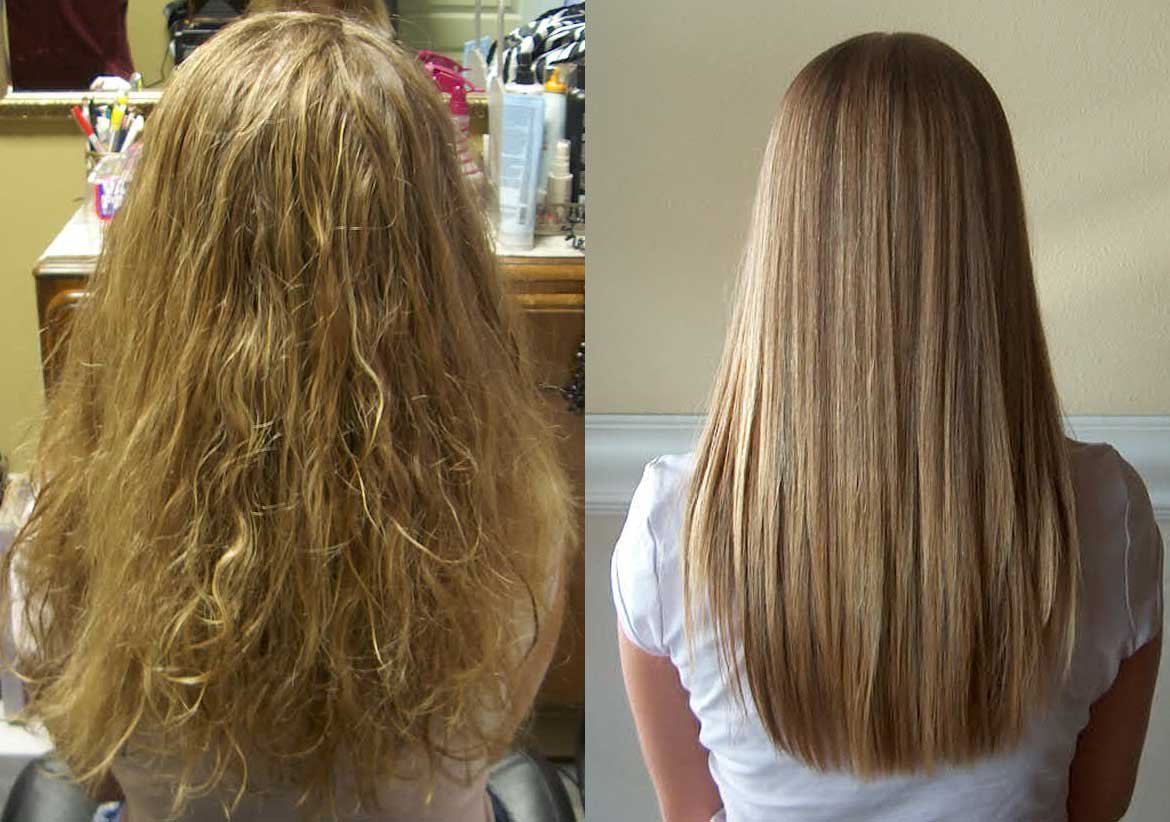 All in all, I thoroughly recommend the Hair Straightening Brush to everybody!
UPDATE

: Dafni vs Hair Straightener Brush

I wanted to try out the original Hair Straightening Brush, the Dafni, and see how it compared to the more inexpensive models you can find everywhere. Well, turns out the Dafni is a super fast hair straightener and is actually worth it if you have a little bit of extra cash to spare (it's come down in price lately!)

Much higher quality of the components, easier to use and more—read my full blown Dafni Review here!