A cluttered makeup table is the worst. You can't find anything, and end up reaching for the first lipstick you can find instead of the one you're looking for. At some point its time to cut the clutter, and tidy up the mess with a makeup organizer.
Luckily there are many different storage options for the size of your makeup collection, and at very affordable prices. But which ones are the best out there? Check out our review of the best makeup organizers to find out!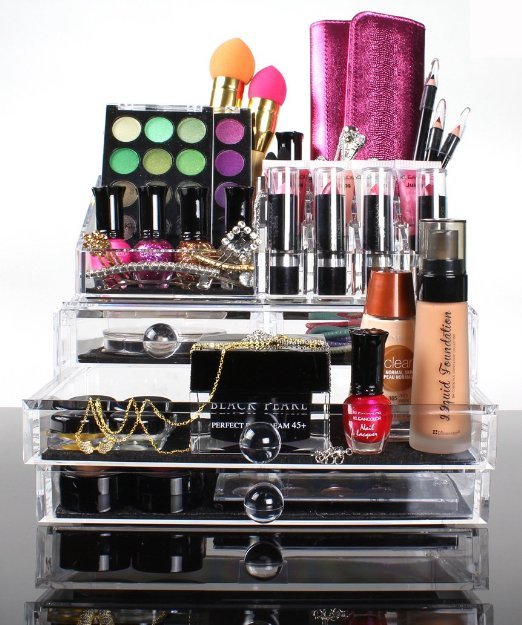 This makeup organizer by Cosmopolitan Collection is made of sturdy acrylic, so you can see all your products easily. It has 3 wider drawers for larger palettes, and compacts. The top has space for 12 lipsticks, and plenty of open space for brushes, nail polishes, perfumes, and anything else you can fit!
It is a great option for those with a light makeup collection, who just need enough room to store the basics. It is also a good option for those with a bigger collection, but who want to just store their daily use products in a clear and organized case.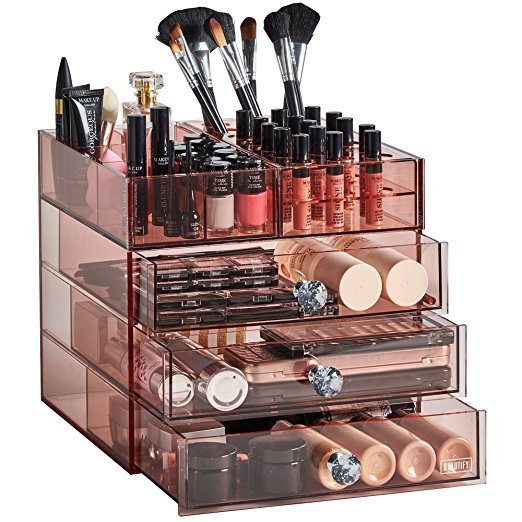 This Acrylic Makeup Stand from Beautify has three spacious removable drawers, and chic crystal handles. They are ideal for storing larger items like foundation, blushes, and eye shadow palettes. The top has six large individual square sections perfect for brushes, mascara, and nail polishes.
It also has 21 individual spaces to store large lipsticks and glosses. This makeup organizer is adorable in the pink color, but it is also available in clear and black. It is another great option for people with lighter makeup collections, and who are looking for a more stylish organizer to dress up their vanity table.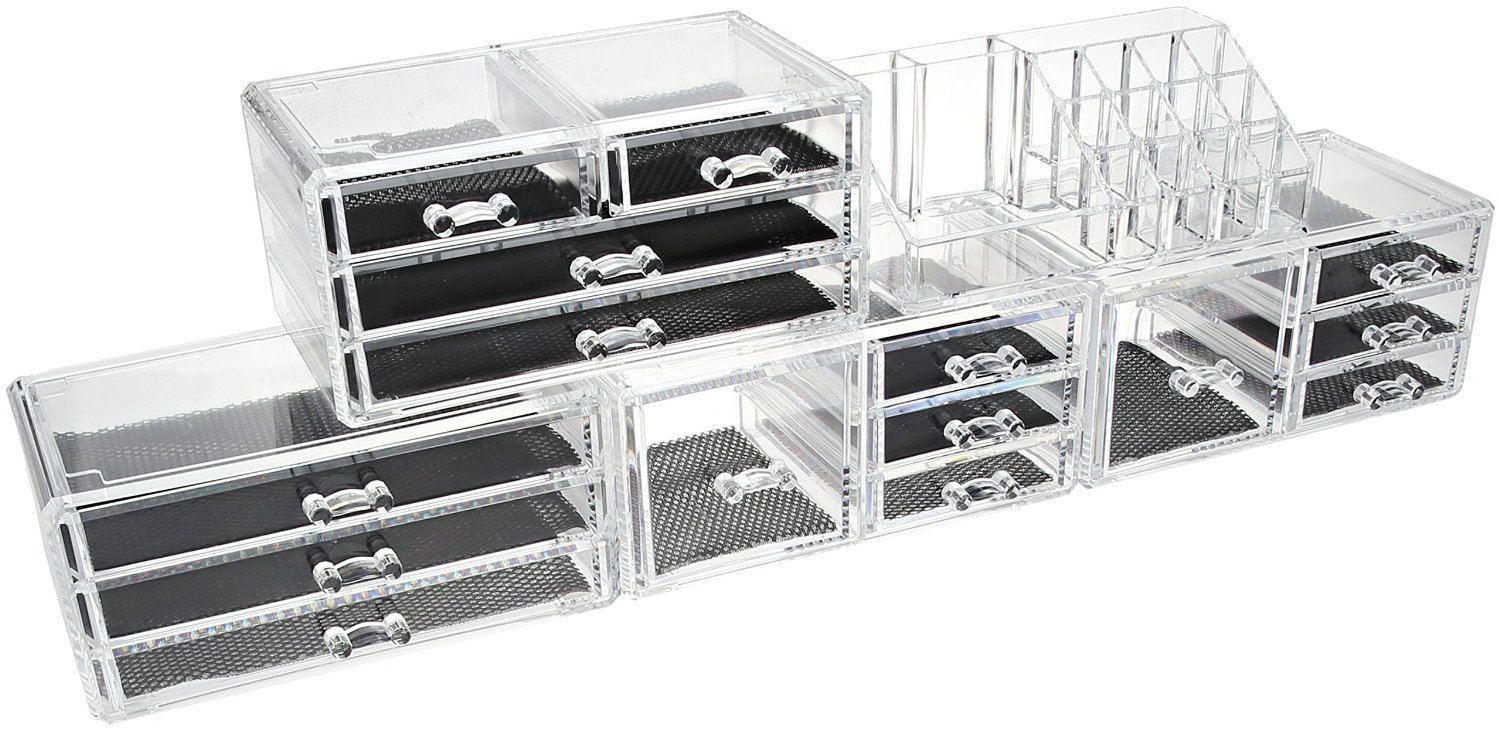 This large acrylic makeup organizer by Unique Home has many awesome configurations options, perfect for any space. All the containers are stackable, so you can stack them vertically, or separate them easily. It has 3 large drawers, 8 smaller drawers, and two larger square drawers for taller items.
The top has space for 12 lipsticks, and several open space for brushes, palettes, and polishes. The set is well made, and has a lot of storage space for bigger makeup collections. The drawers are very spacious, and the clear acrylic allows you to see the full collection easily. It is best suited for people with a large amount of shadows and palettes since there is plenty of space, and could double as jewelry storage.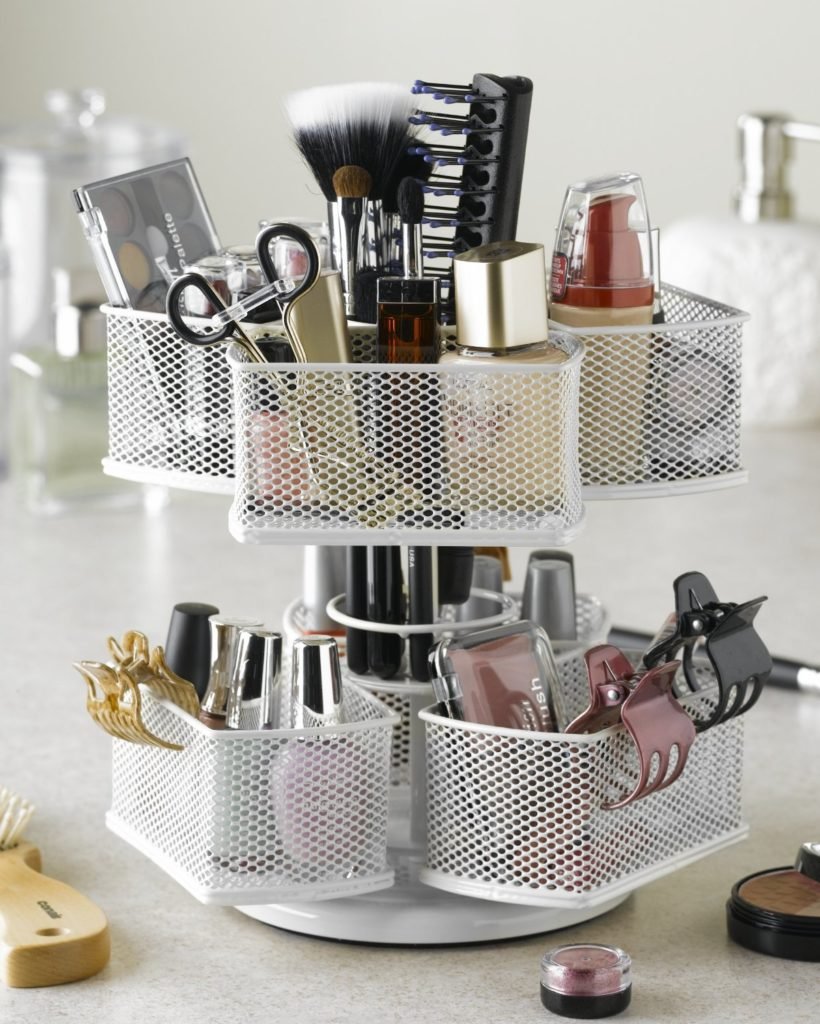 The Cosmetic Organizing Carousel by Nifty has 6 open baskets, perfect for foundations, nail polishes, lipsticks and small palettes. The center has an opening perfect for brushes. It swivels 360, so you can easily find exactly what you're looking for.
The base is small enough so that it doesn't take up much space, and could even fit on a bathrooms sink. It comes in a variety of colors like pink and purple and is best suited for people with smaller items to store.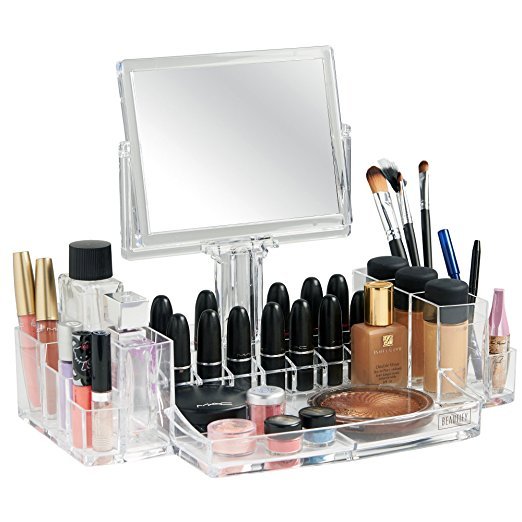 This acrylic makeup organzier from Beautify features a detachable mirror. The mirror is two sided, with both 1x and 3x magnification options. There is space for 12 lipsticks, as well as open compartments for your favorite palettes.
The ends feature 8 separate spaces perfect for taller items like brushes, perfumes, eye liners, and foundations.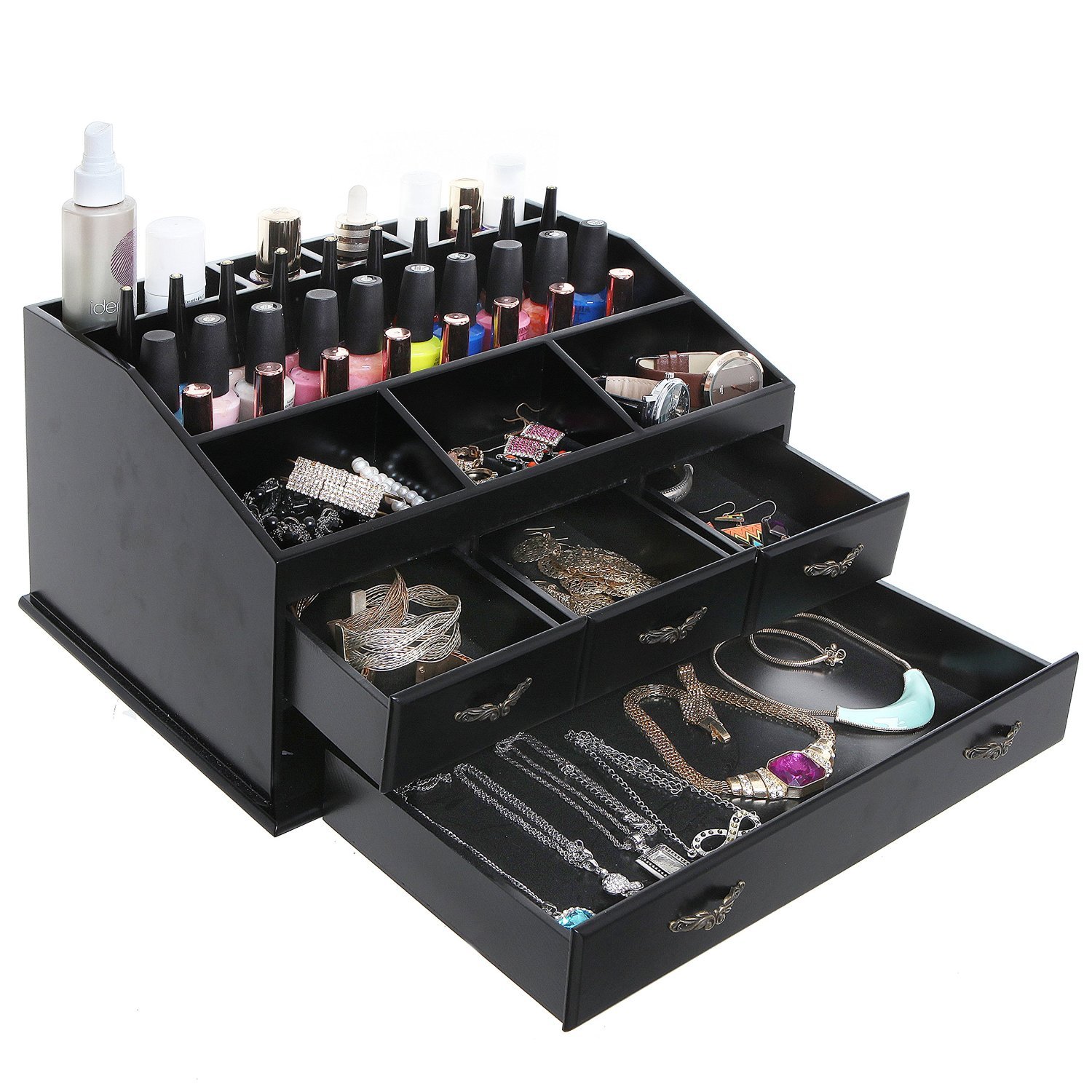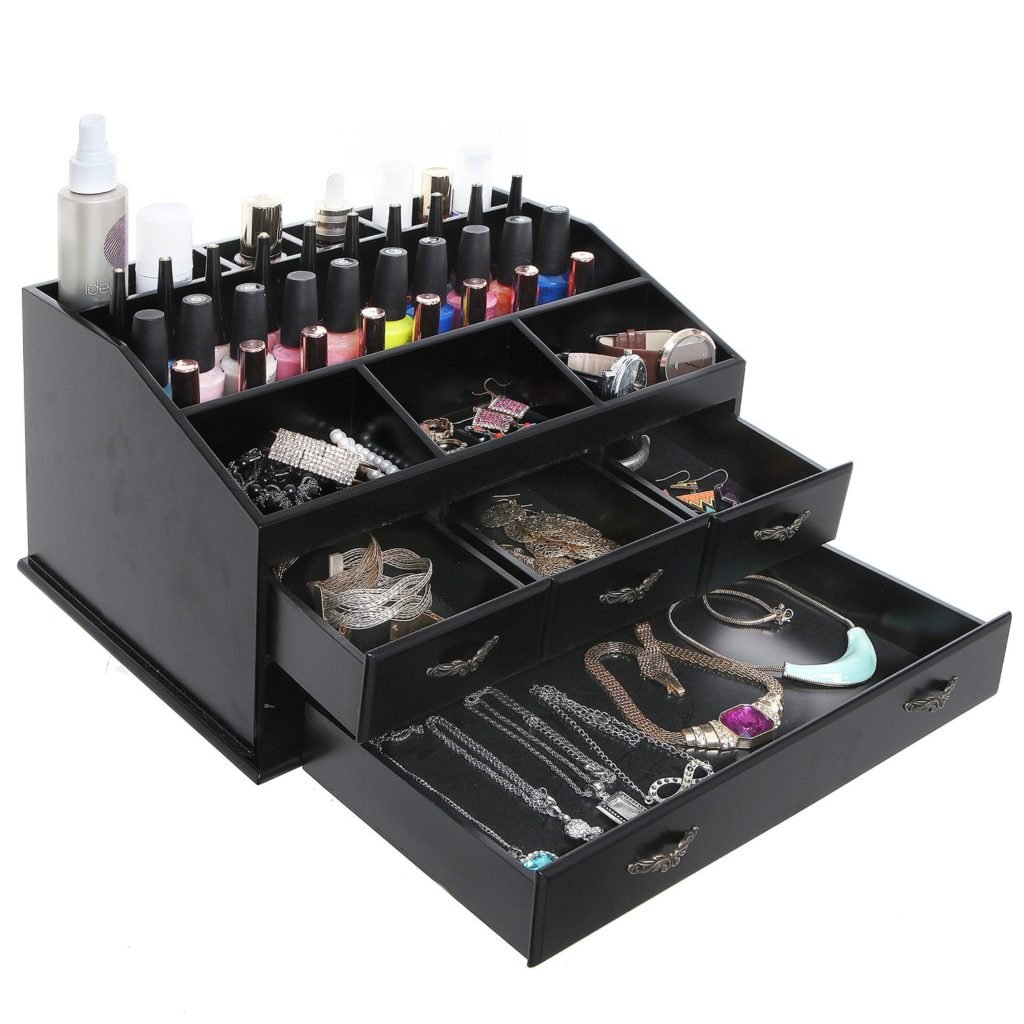 This stylish makeup storage drawer organizer has a dark black look, and is made of sturdy wood. It would blend in perfectly on the top of any dresser or vanity table.
The top features 8 top compartments of various sizes that are perfect for holding bottles of lotions, perfumes, and bottles. The 3 small drawers, and 1 large bottom drawer to allow you to stow eyeshadow palettes, eyeliners, mascara, or even jewelry.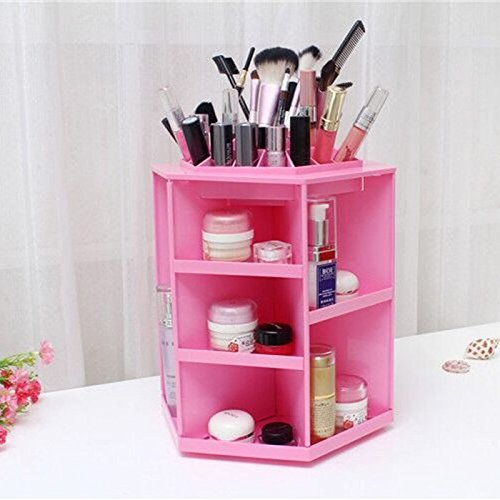 This rotating makeup organizer by ECVISION can turn 360 degrees, and every bit of space can be used. It is easy to find your cosmetics fast by spinning the wheel. The top has a large amount of storage for brushes and lipstick.
The smaller spaces are ideal for smaller tubes and eyeshadows. The larger opening are great for foundations, and perfumes. This organizer is great for those with limited counter space, and comes in both pink and white.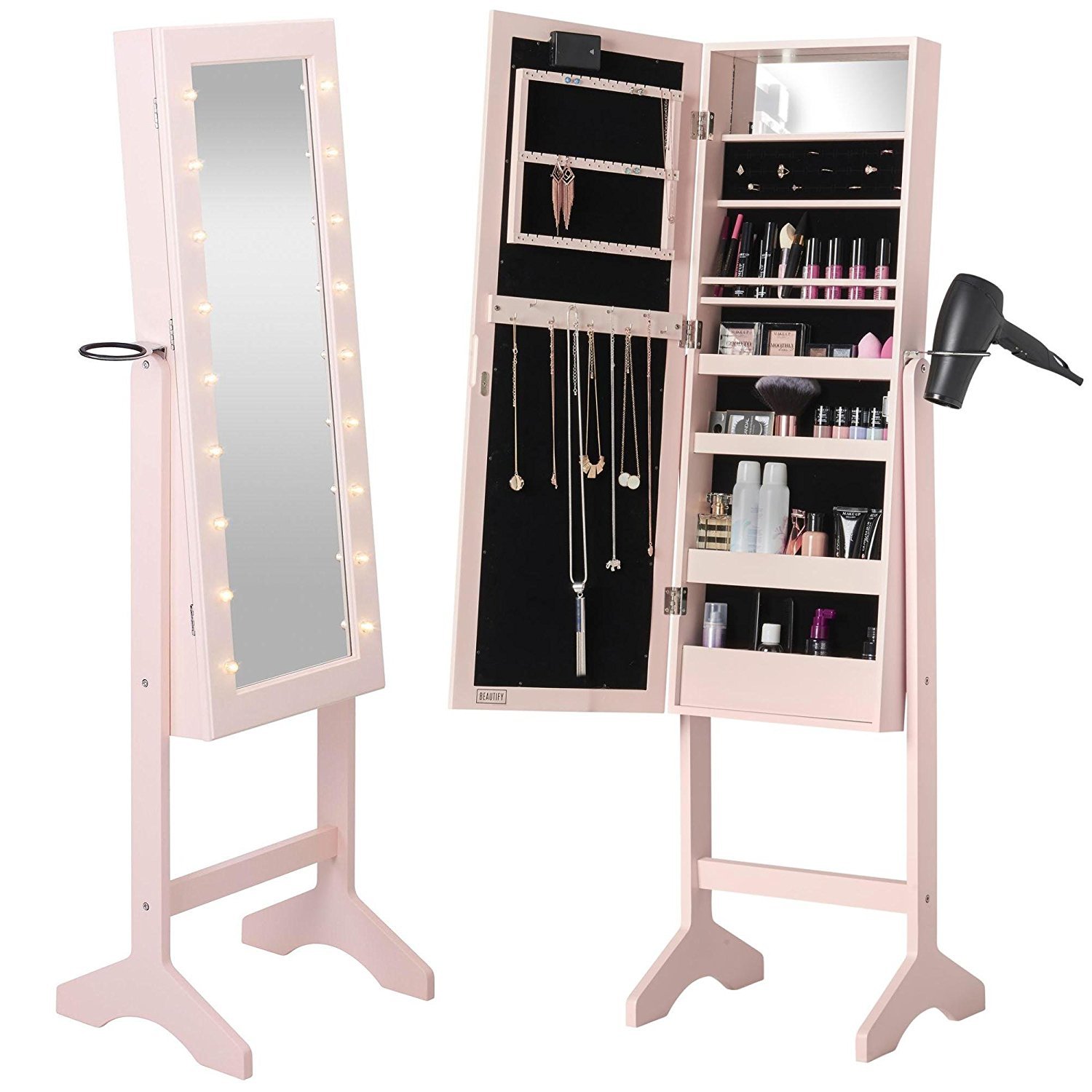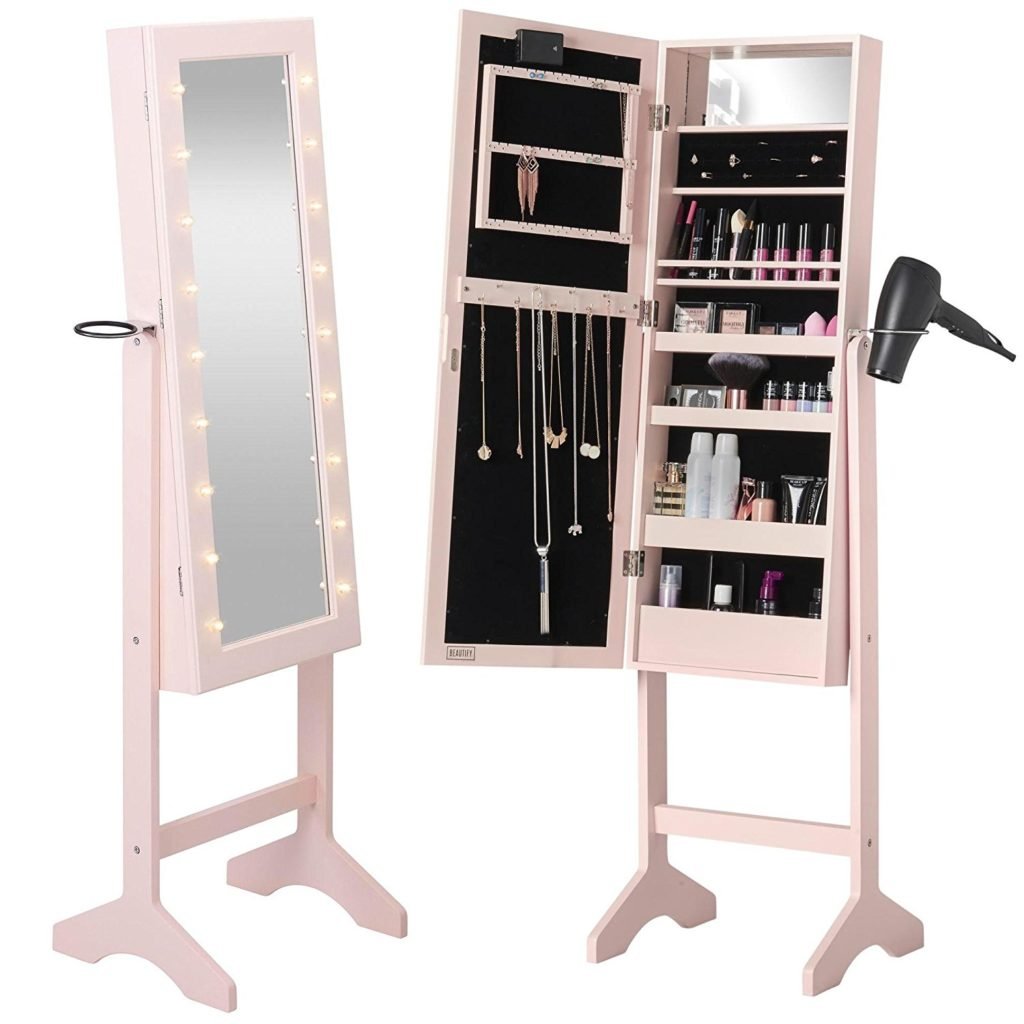 This dual purpose make up and jewelry cabinet provides space to organize your accessories, store your makeup, and a full length mirror. Inside the cabinet there is space for 36 pairs of earrings, 36 rings, 16 lipsticks, plus 9 hooks for belts or necklaces. It also features a small mirror and 4 spacious shelves to keep any size cosmetics, perfume, hair and skincare products.
There's also a handy holder on the side of the cabinet where you can hang your hairdryer, straighteners or curlers. The front has a large adjustable glass mirror framed by 18 battery powered LED lights so you can see everything perfectly.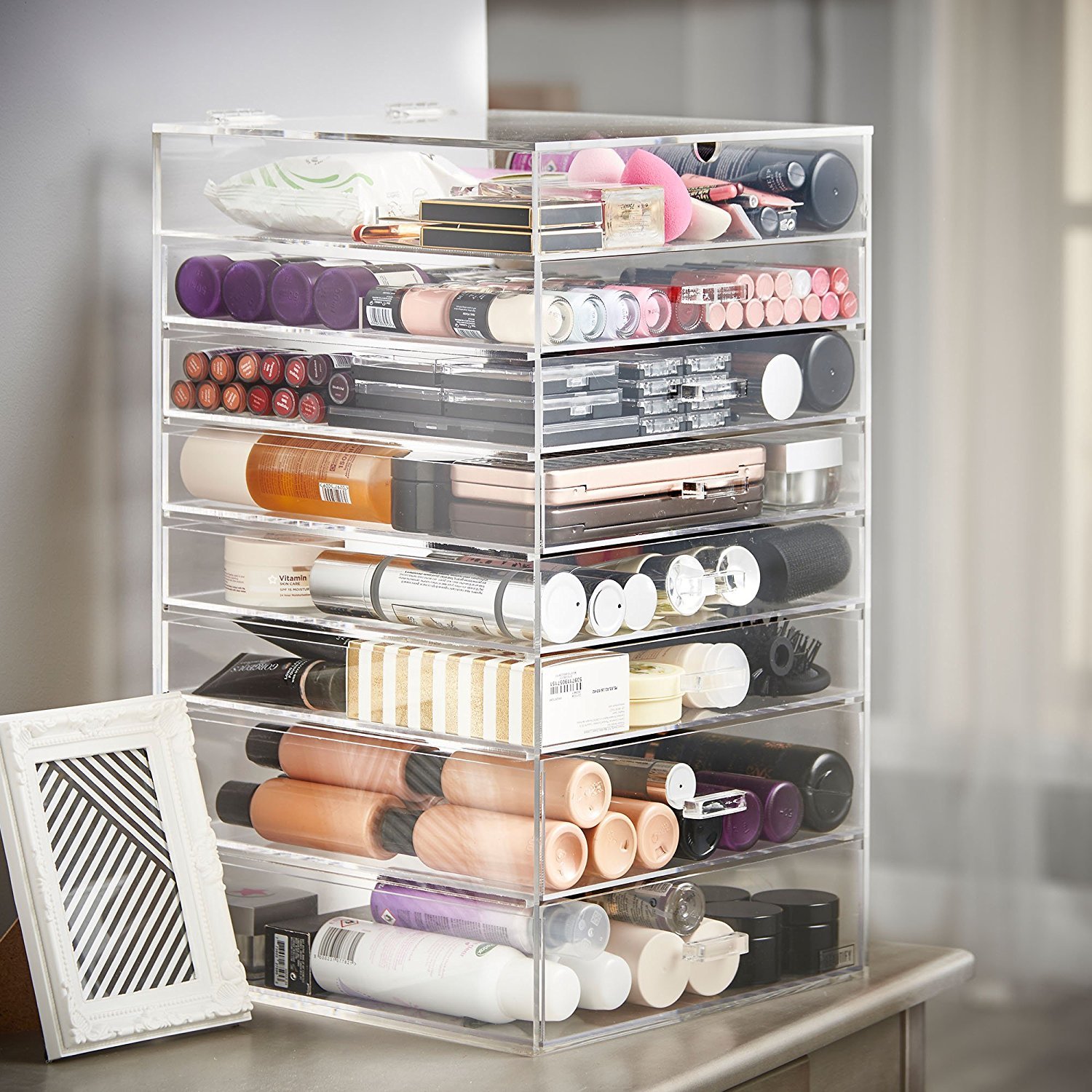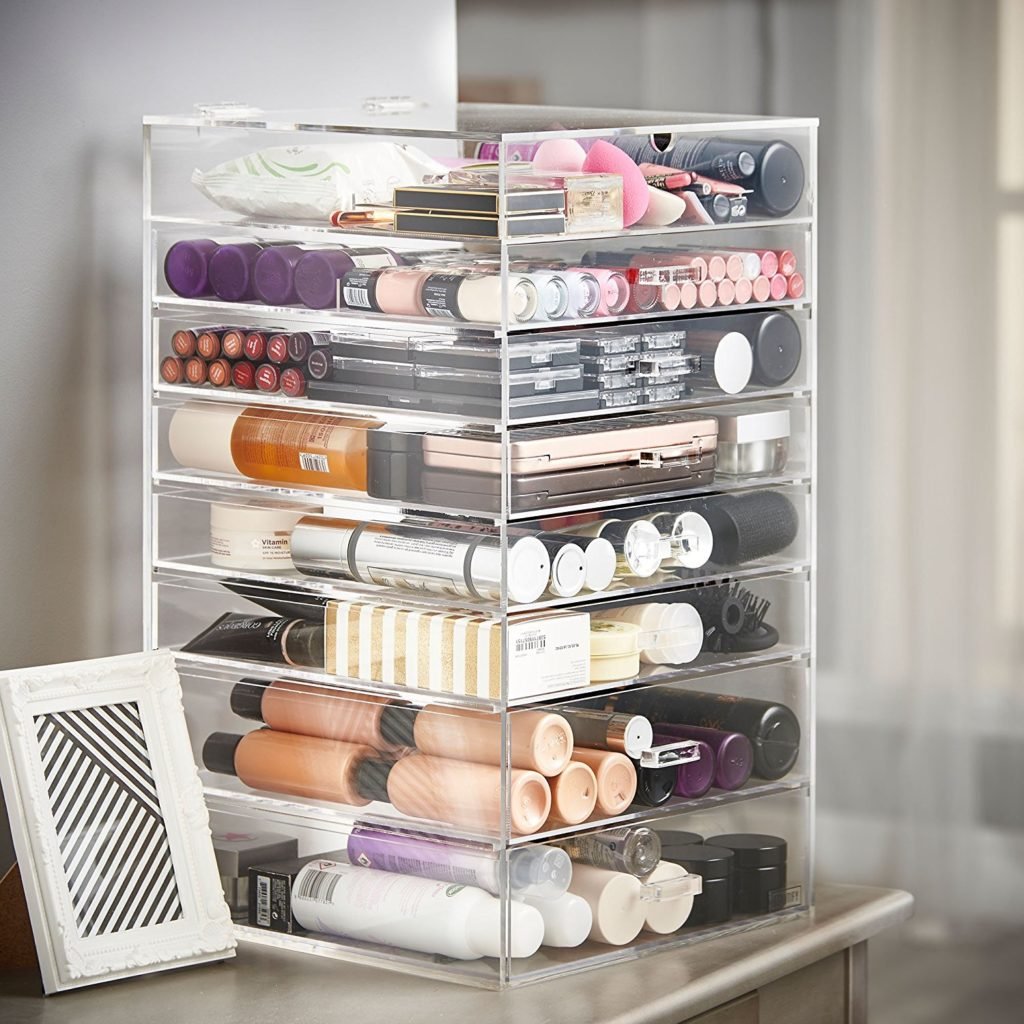 This makeup organizer from Beatify has an eight easy-slide drawers with handles plus an upper compartment with a hinged flip top lid. It comes with two removable dividers, and so you can easily see exactly what's inside.
It is larger enough to hold large sets of palettes, lipsticks, and smaller bottles. Overall it is a great option for people with extensive makeup collections, who want to store large stackable items.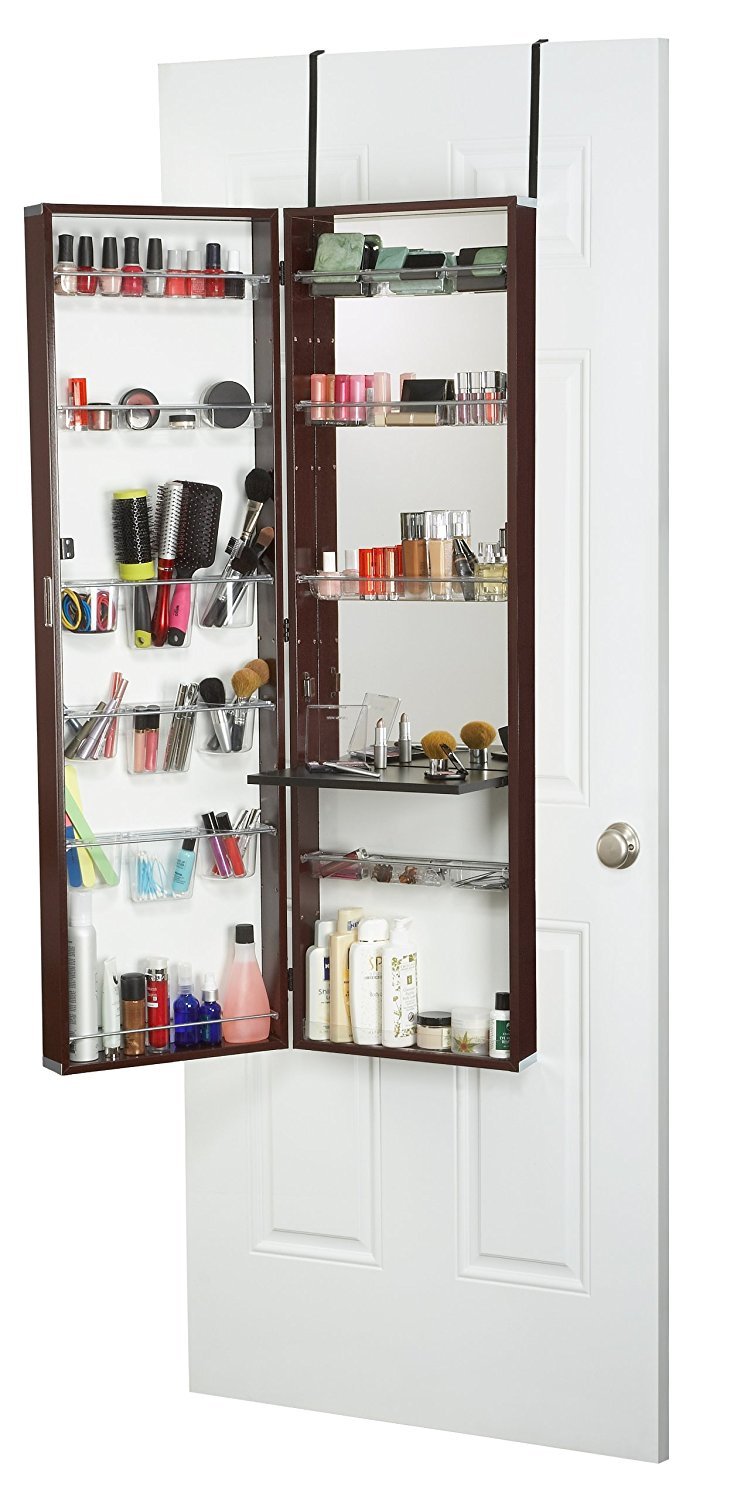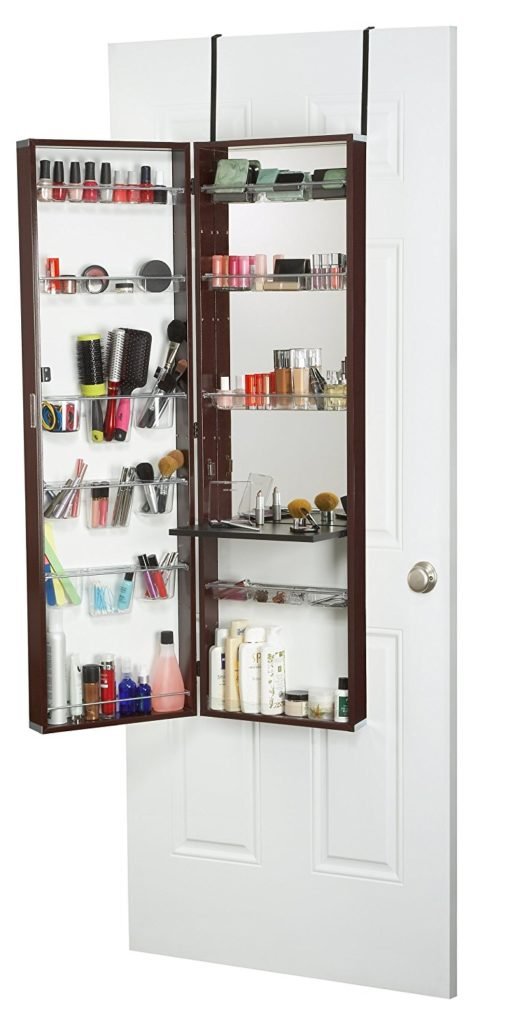 This over the door makeup organizer armoire by Mirrortek has room for every type of beauty product you may need to store. The organizer has a a built in mirror and vanity table so that you can apply cosmetics easily. It is very easy to install, with a slim profile. It also comes in three beautiful wood finishes.
Inside you'll find deep cups that are great for cotton balls, sponges, swabs and makeup pads. The long compartments are ideal for brushes, eyeliners, mascaras, nail files, scissors and tweezers. The divided shelves are perfect size for for nail polishes and semi shelves for eye shadows. This makeup organizer is perfect for someone who wants to store all their beauty goods in one place, or for someone with limited space.
And this rounds out our list of the best makeup organizers! Enjoy your new clutter free makeup space, and happy organizing!