Ever tried an at home blow out? It's easier said than done. The last time I attempted it, I tangled my hair in a round brush so badly, I needed help getting it out. Until recently I thought blow outs must be for professionals only, but then I got my hands on the Revlon Hair Dryer Brush.
This new hair tool called the Revlon One-Step Hair Dryer and Volumizer is a total game changer. It gave me smooth hair with the perfect bouncy waves, in half the time it took before. Keep reading to see the full Revlon hair dryer brush review, and a step by step guide to get the perfect at home blow out.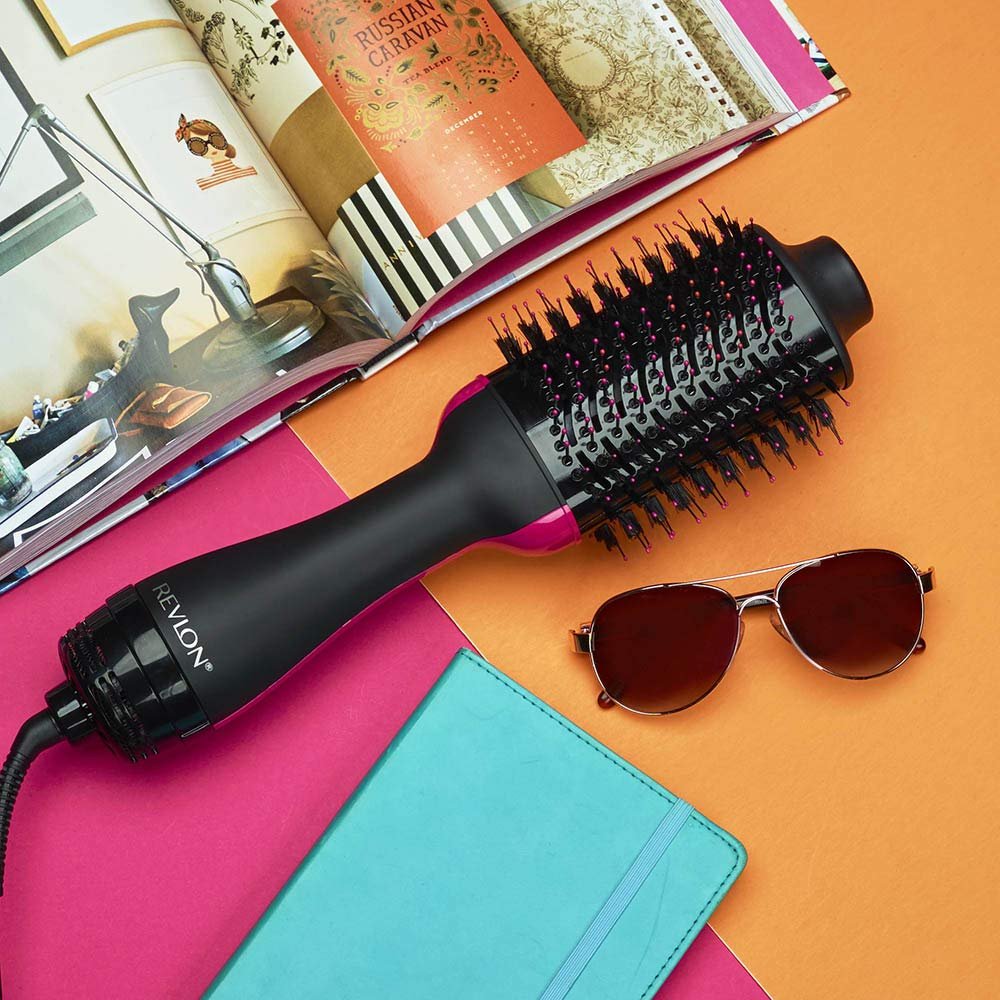 Check Price
How Does The Revlon Hair Dryer Brush Work?
When you go to a salon for a blow out, the professionally trained staff seem to dry your locks with some form of witchcraft. They can perfectly coordinate their large round brush and powerful hair dryers, to give you gorgeous volume instantly. Unfortunately not all of us are so coordinated. But luckily, the Revlon Hair Dryer brush has a way around this common problem.
So how does it tackle our lack of professional training? The Revlon brush dryer combines the large round brush, and hair dryer in one easy to hold tool. No need to worry about holding the hair dryer close enough while twisting the brush. The Revlon one step has you covered!
This hair tool has ceramic coating, and ion technology which gives you an even style and frizz free locks. Not to mention, since handle is way more comfortable than holding a hair dryer, so you won't feel all worn out from holding your arms up!
So if you're ready to see how fast you can get a bomb blow out in your own bathroom, check out these simple steps to style your hair at home.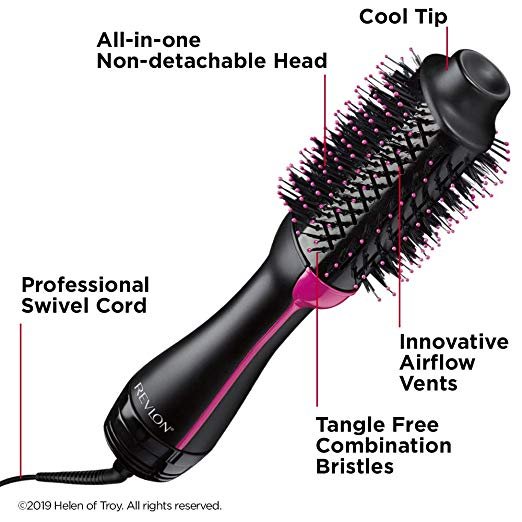 Check Price
---
How To Style Hair With The Revlon One Step Hair Dryer and Volumizer
Here is exactly how I get smooth, frizz free locks, and beautiful bouncy curls with my revlon hair dryer brush. I've broken it down into 7 easy steps that'll help you get salon like results, in your own bathroom!
Step 1. Start with damp, freshly washed hair. It's important to gently dry your hair so that it's just damp (not sopping wet) with a lightweight towel. I use an anti-damage towel like this one by Aquis that helps keep frizz at bay, and is really gentle on fragile hair.
Step 2: Apply heat protection to damp hair. Like any hair tools, heat can be damaging to your hair. I recommend a heat protection spray that doesn't make hair crunchy, like Chi Iron Guard.
Step 3: Section your hair into equal layers. I use hair clips to make it faster, but ponytail holders or barrettes work great too! When you section your hair, secure the top portion and middle sections. Then you're ready to start with the bottom section of your hair.
Step 4: Select your temperature setting. The Revlon hair dryer brush has 3 different heat settings: High, Low, and Cool. I prefer to use mine on the low setting for a few reasons. The first reason is that, well it's less damage to your hair. My hair isn't super thick, so it works great on low, however if you have thicker hair, high maybe more effective.
The second reason I like to use the one step dryer on low, is that it's quieter. When I get ready early in the morning, the sound of the low setting is a gentle buzz, and I much prefer it to the louder sound of the high setting.
The cool setting is great to use if it's really hot outside, if your hair is mostly dry already, or just at the end of your styling session to help set you style!
Step 5: Start styling your hair! Here comes the fun part! Starting at the nape of your neck, push a section of hair into the oval brush of your one step hair dryer. In a slow motion, pull the hair through the brush moving downward. When I reach the end of the strands, I like to twist the brush inward, leaving a soft curl at the end of my hair. I repeat these steps a few times on each section until hair is nice and smooth.
Step 6: Finish the top of your hair. Once you've worked your way through the lower and middle sections of your hair, you'll be ready for the top. If you are using the high setting here, I recommend lowering it. That's because this part of your hair is more fragile, especially around the hairline.
Starting at the back of your hair, grab the top section and place your one step brush under the hair. The in an upward motion, pull the hair through the brush from the root to ends. As I make my way to the front of my hair, I like to turn the brush a little more at the ends. This gives your hair a little bit more of a noticeable wave at the ends.
Step 7: Finish with a medium hold hairspray. I always like to use a medium hold hairspray (like this one from R+Co) because you want your blow out to have a little movement. And trust me, your hair will feel so good, you'll inevitably want to run your hands through it!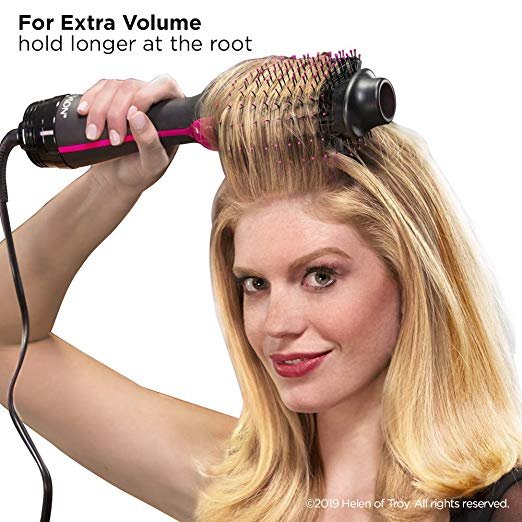 Check Price
---
Final Thoughts On The Hair Dryer Brush
And there you have it, 7 easy steps to the perfect at home blow out! I love using the Revlon one step hair dryer, because it's so much faster to style my hair. I used to blow dry it, and then use a wand to create curls, but this tool makes it so much faster. Not to mention that it's less damage to your hair by combing these two steps.
I've been using this hair tool on a regular basis for a few month, and I'm still loving the results! If you love having your hair done, you'll be so surprised at how fabulous it is to be able to DIY blow out way faster than ever before.
If you liked this review and how to guide, make sure to share this post! And if you are looking for other time saving hair tools, check out our best vibrating flat iron guide.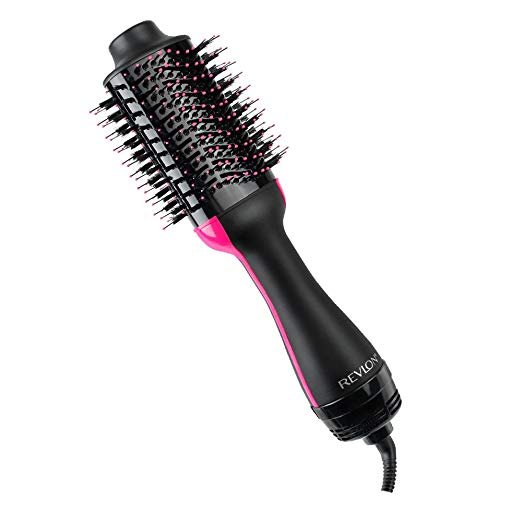 Check Price