As Lash Lifts are becoming more and more popular, I've gotten so many messages asking me "What's the best lash lift kit?"
If you've tried false eyelashes or eyelash extensions you noticed the damage they do to your natural lashes. Fortunately, now there is an easier way to get flirty eyes without using fake lashes on your lids: A lash lift.
It can make your natural lashes look perfectly curled and you won't even need mascara. As soon as I learned you can do them at home, I began my quest to find the best lash lift kit!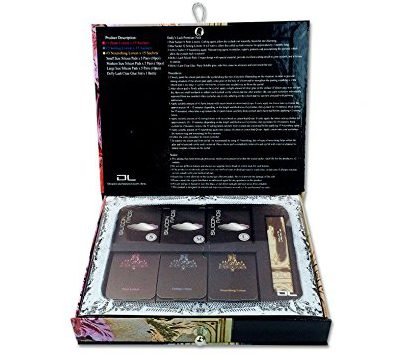 This is the best lash lift kit for the money, with up to 15 treatments and clear instructions. This is my go-to!
Check Price
What's A Lash Lift?
A lash lift, also known as an eyelash perm, is a semi-permanent beauty procedure that creates a flipped-up curl in your natural eyelashes.
The treatment originated in Asia and quickly became popular in the United States. The lash lift will last the natural life cycle of your lashes, generally 2-3 months before a full new set has grown in.
Getting a lash perm is a great idea for people with straight lashes or those who frequently use eyelash curlers, fake lashes, or lash extensions. Opting for a lash perm instead will result in perfectly flirty lashes 24/7.
How Do Lash Lift Kits Work?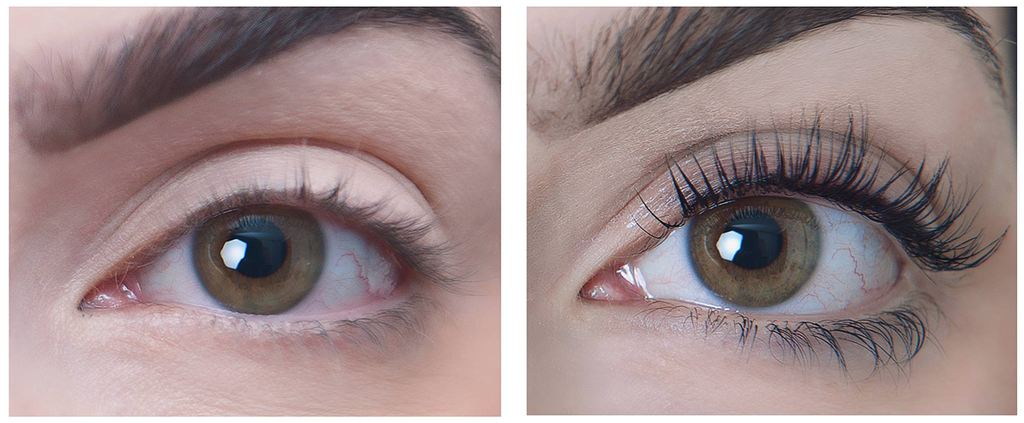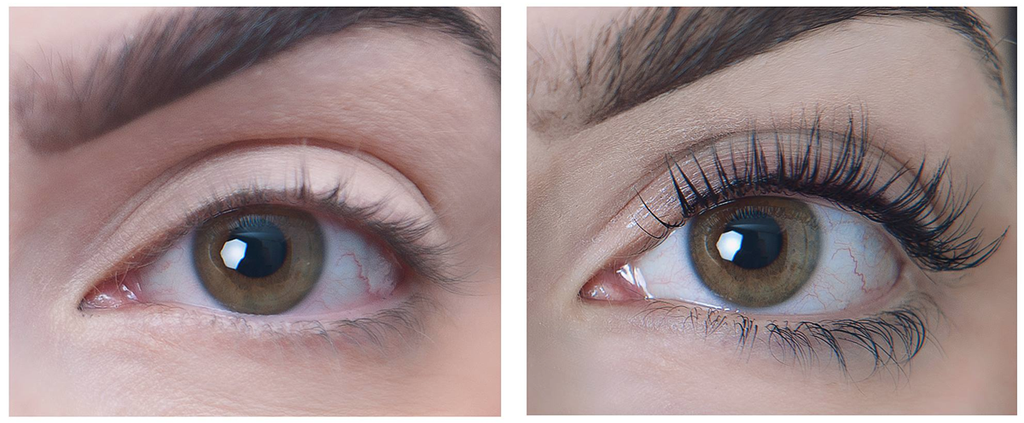 Though there are small variations by brand, eyelash perming kits (sometimes referred to as "eyelash curling kits") work exactly like eyelash curling in a salon. First, you coat eyelashes with a special adhesive and then wrap them around foam rollers or silicone pads. This holds them in the curled position.
Next, apply a perming solution or cream your eyelashes and allow that to sit for several minutes (follow the instructions – leaving the solution too long can damage your eyelashes). After the perming chemicals are done, a neutralizing solution is added and allowed to sit. Pro tip: To get a longer-lasting curl, don't get your lashes wet for at least 24 hours after perming your lashes.
Voilà: You are left with beautifully curled natural-looking lashes! I highly recommend watching YouTube tutorials on eyelash perms before trying out a DIY eyelash lift on yourself.
How to Do a Lash Lift at Home (Video)
Here's the video I kept going back to when I first tried perming my lashes.
The Top 6 Best Lash Lift Kits – My Reviews
After testing out a few kits, I can definitely say that not all are created equal and that some are easier to use than others. So, which is the best lash lift kit? Let's take a look!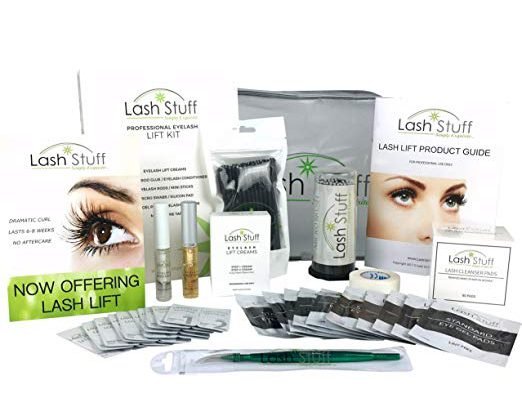 The Last Lift with Keratin from Lash Stuff is the most gentle lash lift kit you can get these days. It's recommended for professional use but can be done with the help of a friend.
This DIY Lash Lift Kit includes:
10 x Step 1 Perming Creams
10 x Step 2 Neutralizing Creams
1 x Step 3 Conditioning Solution (Contains Keratin)
1 x Eyelash Rod Glue
1 x Silicon Pad
10 Eyelash Rods (5 Pairs)
15 Mini Sticks
110 Micro Swabs
10 Pairs of Eye Gel Pads
1 Eyelash Isolator Tool
1 Roll of Micro Tape
50 Mascara Brushes
115 Lash Cleanser Pads (moist)
1 Product Guide Booklet
1 Lash Lift Table Tent (Advertising Material)
The Eyelash Rods Contain: 2 (Small) Blue Rods 4 (Medium) Red Rods 4 (Large) Green Rods
I noticed that with this lash curling kit, I didn't experience the slight tingle around my eyes that I felt with other kits. The solution including keratin seems to be more gentle, but would that impact the results?
I was surprised to find that I got fabulous results even with a gentler formula. There are a few options of sizing for the eyelash rods, and the medium should work well for most people. One thing to note with this kit is that the products are in small packets instead of bottles, making them more hygienic for use on multiple people.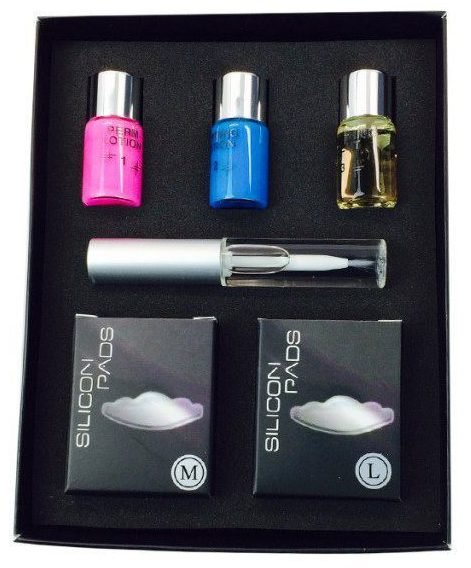 The Dolly's Eye Lash Wave Lotion set is often touted as the best lash lift kit. The kit includes everything you'll need to perform a lash lift, and it's a great option for beginners.
The DIY lash lift kit is easy to use and includes:
Perming Lotion
Setting Lotion
Nourishing Agent
Eyelash Glue
Silicon Pads in Medium and Large sizes
I found that since I have smaller eyes, the medium size silicone pad was a good fit, but you can easily trim the with scissors if you have smaller eyes.
This kit was easy to use, and working one eye at a time I was able to finish within 2 hours. Since it was my first time using an eyelash perm kit, I think it should go faster next time. This kit is enough for about 6-8 treatments since I applied the creams heavily.
Overall I think this Dolly's Lash kit gave great results for the price, and my lashes looked beautifully curled for about 9 weeks until a touch-up was needed.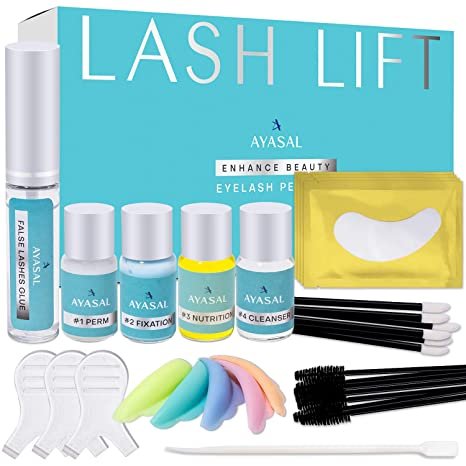 This eyelash perm kit sold by Ayasal blew me away with how many components it includes. At first I was a little overwhelmed by everything given, but it all arrived exactly as described and in a cute little carrying case. The package includes:
Lash Glue
Lash Perm Solution
Lash Fixation Solution
Lash Nutrition Solution
Lash Cleanser Solution
5x Silicone Pad
5x Under-eye Gel Pad
3x Lash Cleansing "Y Brush"
10x Lash Micropore Brush
10x Lash Brush
Instead of using the silicone pads on my top lash line, I used them under the eye. Then I used the glue to attach the pads to my eyelids and finally glued my lashes to the pads. The curved tweezers were very helpful for this part.
Next, I applied solutions A-D in the order described, letting them sit and cleansing in between. I liked the A-D labels which are handy when you've got one eye shut. This kit includes a "Lash nutrition solution" which is a lash-restoring conditioner, which I really liked.
Overall my final results with this DIY lash lift were very good. My lashes looked a bit more unrealistically curly from using the roller instead, but I didn't mind. I did like the variety of sizes of rollers and accessories that are included with this kit, and it is certainly a great value for money.
The only thing I disliked was that the perm did not hold as long, and after 6 weeks my lashes were ready for another treatment. However since this kit would work for about 10 treatments, it is still a good deal.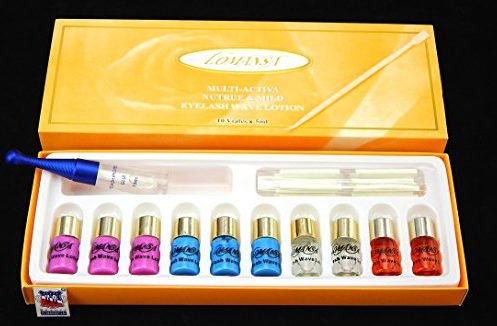 This lash lift kit from Lomansa is another popular choice for lash permers. The set includes foam rollers instead of silicone pads, and I was happy to test them out since I had success with the rollers in the previous kit.
The kit includes:
3 bottles of the perming solution
3 bottles of neutralizing lotion
2 bottles of eyelash cleanser
2 bottles of the restore solution.
lash glue
foam rollers in 3 sizes.
Overall I had a harder time working with the foam rollers in this kit for some reason, they were not attaching with the lash glue as easily as with some other kits. I was also missing the labels on the different solutions, as I could only tell them apart by the colors.
Finally, the directions included were not easy to read, and though I had no trouble with the process since I had done it before, new users may have issues. This kit gave me nice results which lasted 6 weeks, but it took lots of messing with the rollers and glue to get started. Overall it is not a bad kit if you are experienced, but you may need more patience to get started.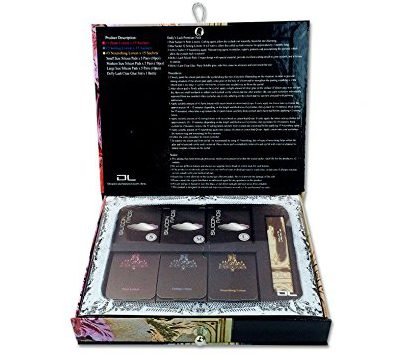 The Dolly's Lash Eyelash Premium Kit looks very high-end, with a stylish box. In fact, this kit is frequently used by professionals who will be doing eyelash perms for clients. The box is really sturdy and has a drawer feature to store all the products. This set includes:
Perm Lotion x 15 Sachets
Setting Lotion x 15 Sachets
Nourishing Lotion x 15 Sachets
Silicon Pads Size Small, Medium, & Large (5 sets of each)
Dolly's Lash Clear Glue 5ml = 1 Bottle
I was already impressed with Dolly's lashes from using their smaller kit, but the premium version was much nicer. Everything is nicely packaged, and the labels are easy to understand.
I also liked that this set came with small silicone pads which fit my eyes better. Using sachets to apply the solutions made the process easier, and it kept the products fresh for much longer. My lashes looked great for a full 10 weeks, and I was happy I had 14 full treatments left.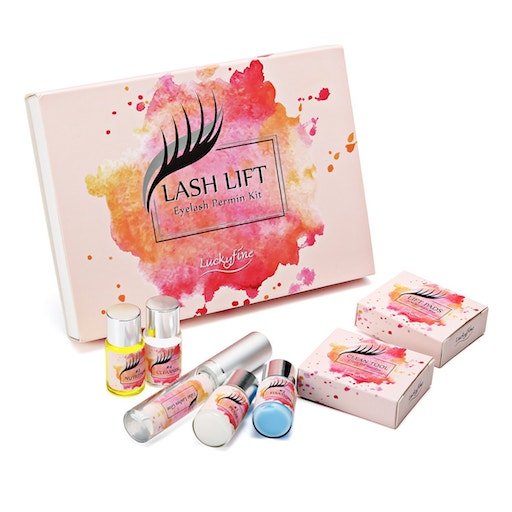 This lash lift kit by LuckyFine features everything you need for a straightforward lash perm, and nothing more. This set includes:
Perm Agents
Fixation
Nutrition
Cleanser
False Lashes Glue
Cleaning Tool
Lift Pads
While this is a smallish kit, I find that LuckyFine did a great job of providing everything for a good lash perm, without adding unnecessary stuff that would drive up the price.
Because of that, this is the cheapest lash perm kit I've tested.
When it comes to the quality of the perm itself, I have to say that the glue included in this kit is a little runnier than the glue in, say, the Dolly's Lash kit. This results in needing to spend a bit more time trying to get the lashes to stick to the pad. Using a magnifying mirror is a lifesaver, and I recommend having some toothpicks on hand to help you separate your lashes from the brush.
What was surprising was its durability: my lashes stayed permed for a full six weeks. Only at the very end of week six did I start to see my lashes separating.
Because of that, this kit by LuckyFine is the best value-for-money kit on the market at the moment, in my opinion!
The Best Lash Lift Kit?
Overall, I tested out five of the most popular lash lift kits on the market to figure out which one is the best — and two stood out as the clear winners!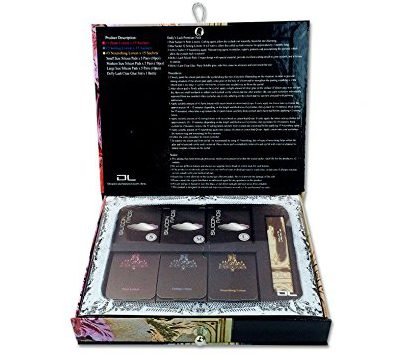 Dolly's Lash Premium kit won hands down. The box is great for storing everything, the instructions are easy, and you get lots of treatments for your money.
For the price you would pay at a salon for one or two treatments, with this kit you can have 15! The sachets are easier to use than bottles, and they allow you to avoid having products lose effectiveness over time since you open just what you need for each session.
This kit is admittedly pricy, but the amount of treatments you get justifies the heftier investment. Dolly's smaller eyelash perm kit is also a great pick if you wanna try out Dolly's products without the 15-treatment commitment.
This, to me, is the best lash lift kit on Amazon!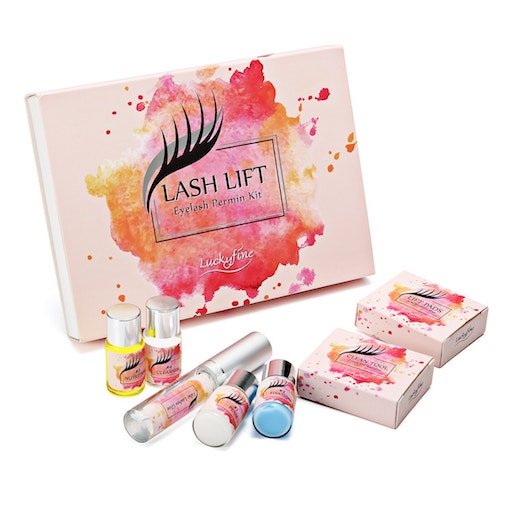 Not everybody needs a super-professional solution! If you don't wanna break the bank and don't mind spending an hour every month and a half to have great-looking eyelashes, the kit by LuckyFine is by far the best choice out there!
It's got the essentials, it works well and you'll be happy with the results – all for less than half the price of some of the other kits.
That's all for now! Hope you've enjoyed reading my lash lift kit reviews and — happy lash perming!
---
Frequently Asked Questions About Lash Lifts
Is it OK to do a lash lift at home?
Yes, doing a lash lift at home is totally OK.
It's not very hard and you can save a bunch of money.
Is it OK to put mascara on a lash lift?
Yes, it's OK to put mascara on right after a lash lift!
You should, however, use a mascara that's NOT waterproof, and avoid mascara remover. This is because oil-based mascara removers can dissolve the keratin formula that is actually doing the lifting on your eyelashes.
When you're done removing your water-based mascara, simply pat dry your eyes (no rubbing!)
How long do lash perm kits last?
An eyelash perm can last anywhere between four weeks to eight weeks.
How long does a DIY lash lift take?
The first time it can take about one hour but, as you get better and more efficient, you'll be able to do a lash lift at home in half an hour to forty minutes.
The part that you really can't skip is waiting for everything to set, which takes about fifteen minutes. Of course, during that time you can do other things as well, like straighten your hair or what have you.