Blow drying your hair is one of those necessary tasks that women really don't enjoy. Blow dryers are heavy, and they're hard to hold for extended periods of time. Luckily, 2023 offers some nice gadgets that can help you speed through your blow drying routine without straining your arms and shoulders. The most effective solution I found is a hair dryer holder or a hair dryer stand.
These devices hang on to your blow dryer for you, so you can focus on getting great looking hair! I checked out the best hair dryer holders and hair dryer stands to see which ones will make your hair routine easier without breaking the bank.
Best Hair Dryer Holder of 2023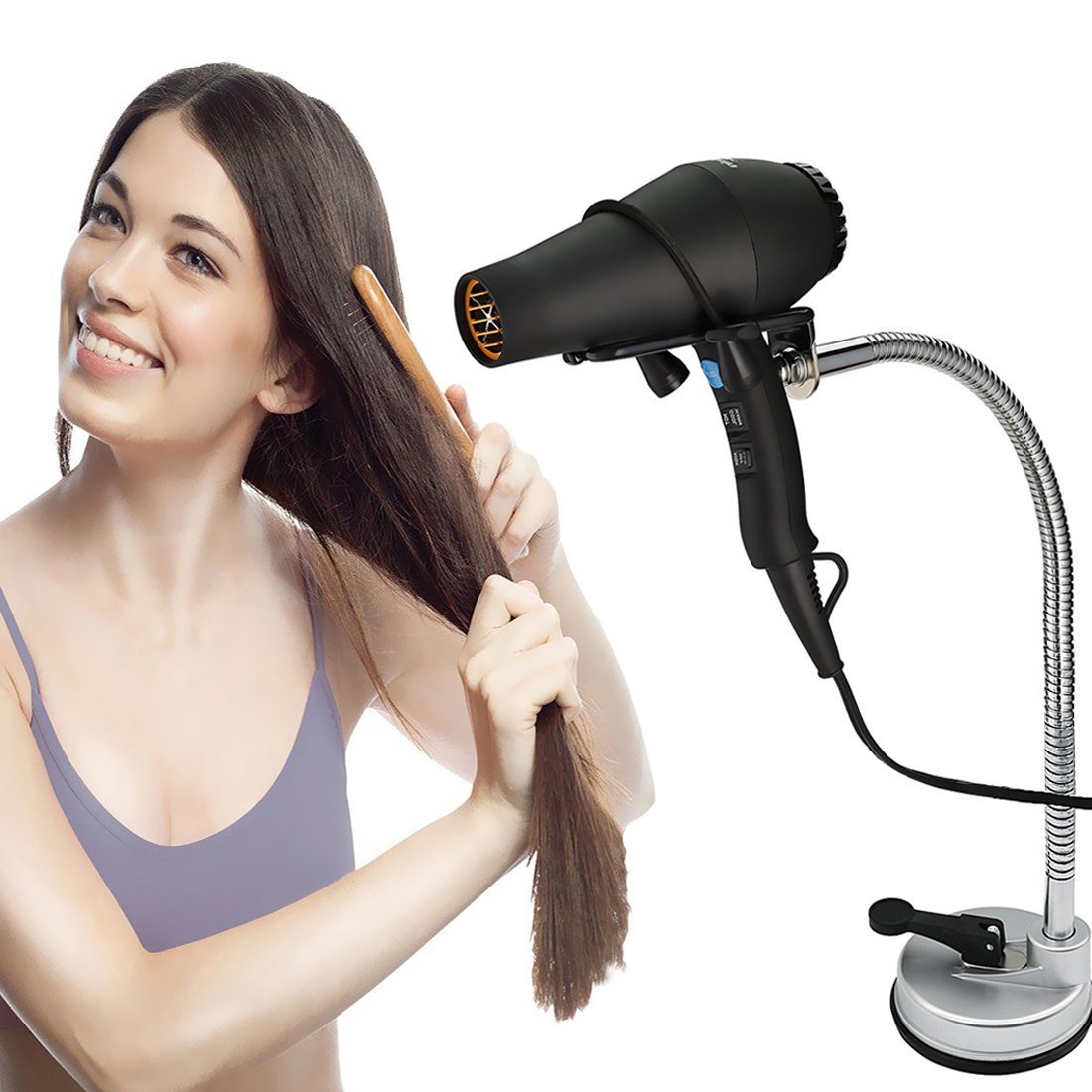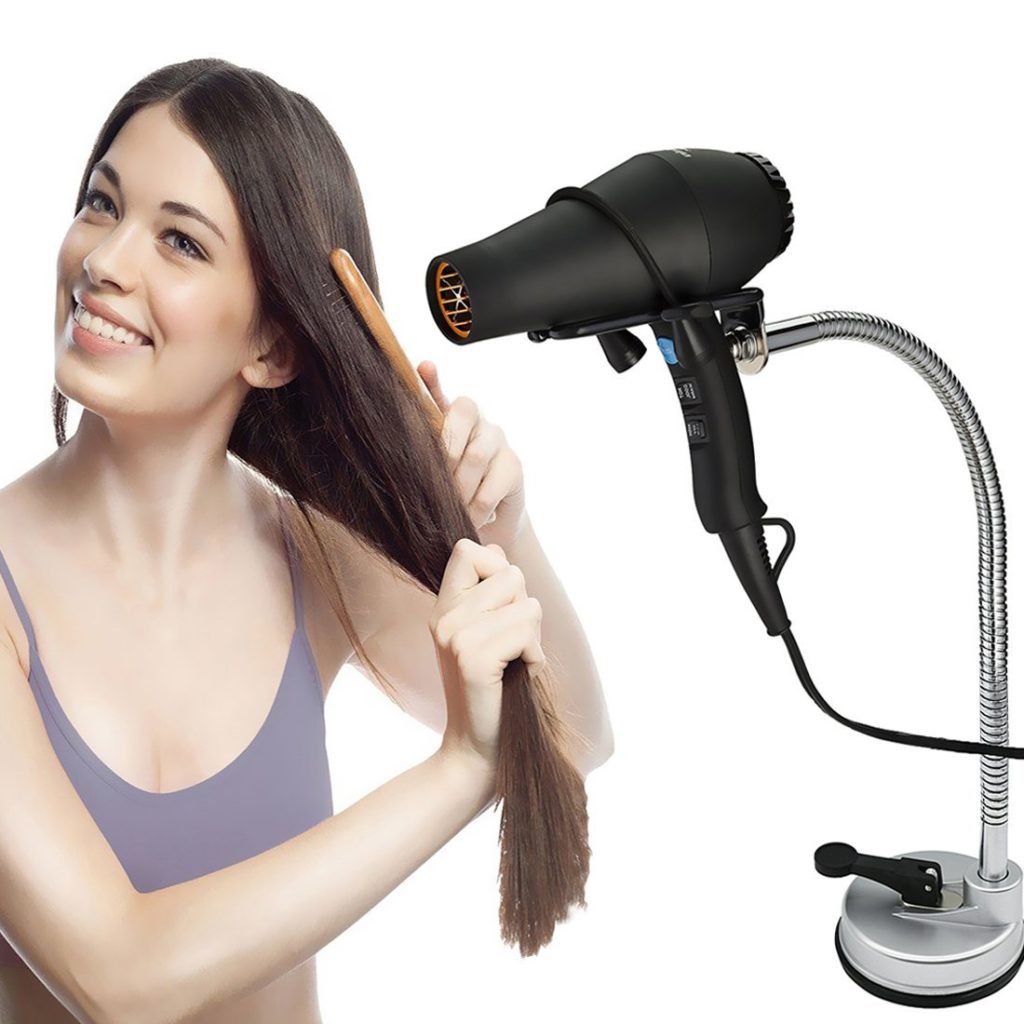 The Pard Desktop Hair Dyer Stand Holder is one of the best hands free options on the market right now. It sits easily on top of any surface, and I love the easy to mount suction cups. It makes the stand super sturdy and doesn't move around as you rotate it. The stand itself is made of a nice stainless steel which looks great in the bathroom. It also makes it easy to wipe down (if you use hair spray while you blow dry this is important).
It can fit any brand of blow dryer, and it's got a mounting bracket and rubber band to adjust to any shape. The holder is also super light weight so it can travel with you easily. The feature that really makes this product a pick for best hair dryer stand is the 360 degrees of rotation, so anywhere I needed my dryer to reach was no problem!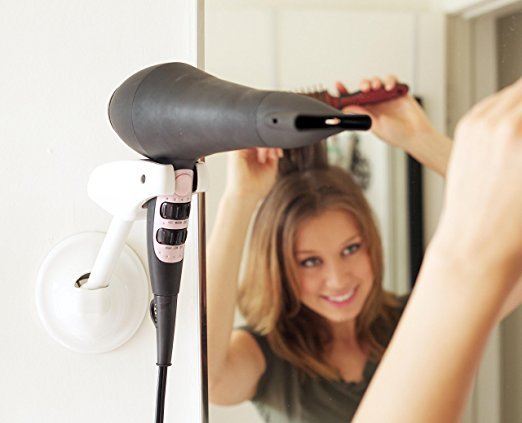 The hands free hair dryer holder from Bestie Brands is a bit more limited, however still an excellent choice for best hair dryer holder. This holder needs to be mounted to a wall, and includes the 4 screws you'll need to attach it. It's really easy to set up, although you'll have to commit to a location that it can stay over time.
It has no problem fitting any brand of hair dryer, and swivels very easily. It doesn't have quite the range of a full 360 holder, however it still gets the job done. The white color is nice and blends in easily with most decor, and is easy to wipe down. Over all this holder is a great choice if you won't need to move around your hair dryer stand, and the price is very affordable.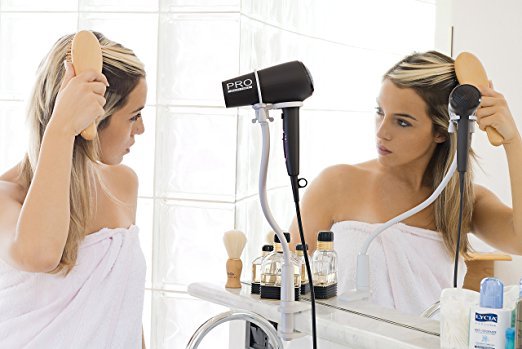 This hair dryer stand from Skywin is really unique because it mounts by clipping to any surface. It was really easy to mount on the edge of my bathroom counter and can hold any brand of hair dryer. The device feels super sturdy, and you don't have to permanently mount it to get a strong hold.
I really liked the height of this product, which certainly makes it a great choice for best hair dryer holder. This hair dryer holder also can rotate 360 degrees like the Pard holder, but is a little easier to set up. One thing to keep in mind is that if you don't have a place in your bathroom where you can clip the stand (between 8mm and 2.5 inches thick), this unit won't work for you. This blow dryer stand is super light, and is really easy to travel with, and I like that it can be put away easily.
Best Hair Dryer Stand of 2023
If blow drying your hair all together feels like the biggest chore in the world, there are a few hair dryers that do all the work for you. These devices are similar to what you'd see in a professional salon, but are available at a fraction of the cost. Here are my top picks for Best Hair Dryer Stand.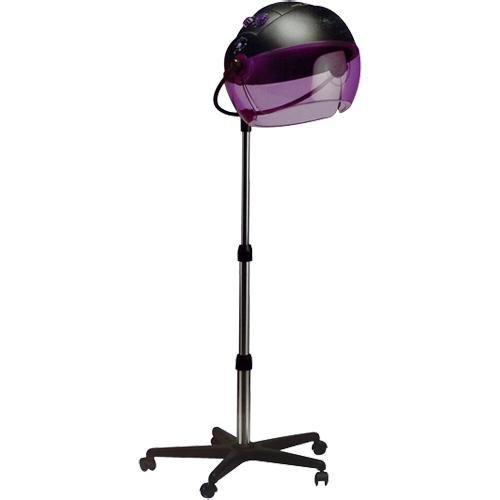 There is nothing more comforting than sitting down at the salon under the hair dryer with a magazine, and knowing you'll be warm and relaxed for the next few minutes. The Hot Tools portable hair dryer really brings that experience back home with this easy to use stand dryer. This salon style stand dryer uses a Pre-Moisture System with tourmaline and ionic nano technology that allows the dryer to hydrate hair as it dries.
It is also very powerful with a 1875 watt output, letting your hair get dry up to 50 percent faster than a traditional blow drier. It isn't bulky or hard to move around, and the front visor and hood are big enough that you can dry with large rollers in your hair. It's got 2 different speed setting, and four heat options so that you can create a custom setting perfect for your hair. The 9 ft cord means you can plug it anywhere, and I really enjoyed relaxing on my couch with a book while my hair dried in record time.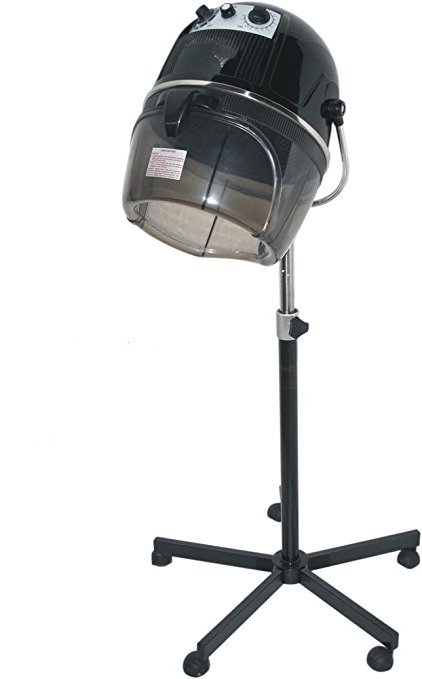 This salon quality hair dryer stand by D salon is a pretty impressive choice for a budget buyer. The dryer has a powerful 980 watts, with a stainless steel heating element. It seems very sturdy and has an adjustable time, as well as various temperature and fan settings. This dryer is really easy to set up, with very little assembly required before it's ready to go.
The settings are really easy to switch, and it doesn't take much time at all to raise or lower the position of the dryer. Over all this dryer didn't work quite as fast as the Hot Tools iron, but is quite a bit less expensive. It's also got a bulkier hood than the Hot Tools hair dryer stand, BUT if price is your biggest factor it won't matter much!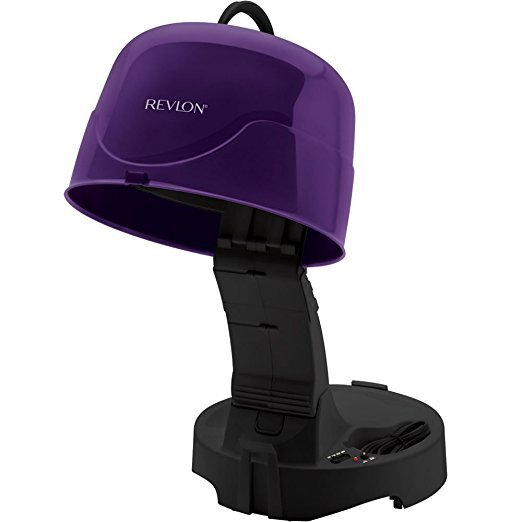 For a fraction of the cost of a swiveling salon hair dryer, you can get a stationary bonnet hair dryer that gives you a completely hands free hair drying experience. It's really easy to set up, and roomy enough to work with curlers in your hair.
This Revlon hair dryer stand is also collapsible which makes it super easy to store if you've got limited space. It has two heat settings and, while it has less frills than others, it's a really affordable option for a stand hair dryer.
And there you have it, my top picks for the Best Hair Dryer Holder, and the Best Hair Dryer Stand. Whichever you choose, your body will thank you for giving it a little relaxation time during your grooming routine (no more stiff neck after drying your hair too long)! Happy Hair Drying!