Are you looking for a cordless hair dryer that is both portable and powerful?
If you don't have a socket near you, drying your hair can be extremely challenging. And if you have kids and you want to dry their hair after a beach day, you used to have to use a towel and go. Not anymore! Finally, there is a battery-powered blow dryer that will give you or your kids perfectly dry locks without plugging in. But does it work?
Check out our Lylux Cordless Hair Dryer review to find out!
Lylux Cordless Hair Dryer Review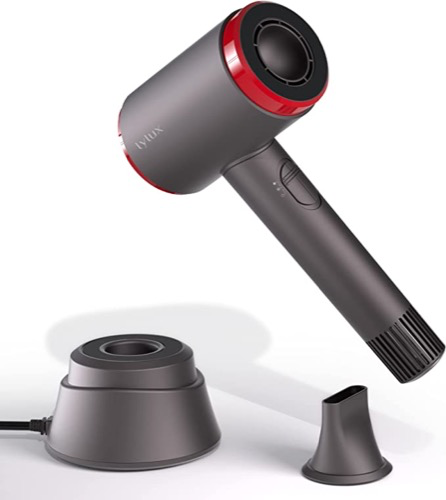 Who Needs A Cordless Hair Dryer?
There are all kinds of life events that come up when you'd love to be able to dry your locks with a cordless hair dryer. Here are a few situations where a battery-powered blow dryer would come in handy:
Camping or RVing with limited power
Showering at the gym
Homes with frequent power outages
Drying kids' hair
Homestays with a shared bathroom
Days at the beach
Drying off pets
Settings
The Lylux has two heat settings ("Low-Warm" and "Cool"), and three fan speed settings ("Low", "Medium", and "High", as you may have imagined!)
Battery Life
The Lylux Cordless Hair Dryer charges up fast: 80% charge in 30 minutes and 100% charge in 50 minutes, which means less time waiting around before styling begins!
Longevity: At the fastest fan speed, in the Low-Warm mode, the battery lasts about 8 minutes. And, if you want to use it with the heat setting off completely, the battery can last for an amazing 38 minutes!
Design & Comfort
I love the minimalistic design of the Lylux! It reminds me a bit of the Dyson hair dryer.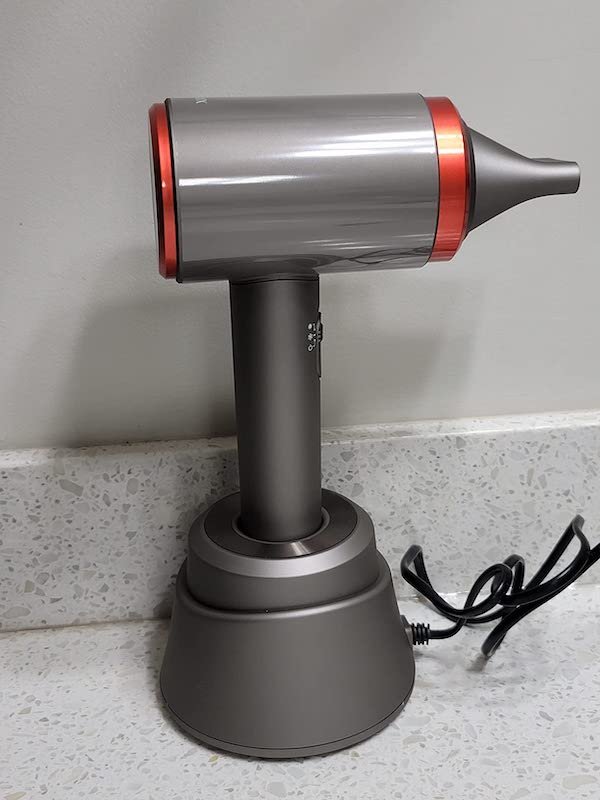 In terms of comfort, the Lylux is slightly heavier than wired hair dryers at 1.4 lbs – something to consider if portability is important to you.
Accessories
The Lylux comes with a magnetic "concentrator" nozzle, that I pretty much always leave on (since it gives me better control over where the air flows, and it seems to make my hair dry faster).
It also comes with a little black drawstring bag to carry it on a trip, for example.
Does The Cordless Hair Dryer Work?
Because it doesn't get as hot as your typical AC-powered model, it takes me about 5 minutes longer to dry my hair, but the cordless hair dryer does really work! Consider also that the maximum temperature this dryer reaches is 131° F, which is enough to dry—but not style—your hair. One bonus of the lower temperature is that the Lylux is safer to use on children and pets.
Cordless Hair Dryer Review Final Thoughts
Overall, the cordless hair dryer by Lylux is a super helpful device for people on the go. Personally, I use this all the time for my kids now, because it's quieter than a regular hair dryer, and I can follow them around with it if they refuse to be still (which is pretty much always the case!)
If you don't have kids and are not planning to go on a camping vacation or the beach, though, there isn't much of a reason to replace your regular hair dryer with a cordless blow dryer. However, if you are a parent or a frequent traveler, this device is super handy.
And there you have it, the best rechargeable blow dryer around! And if you are looking for an easier way to use the blow dryer you already have, check out my review of the Best Hair Dryer Holder And Hair Dryer Stand, which lets you dry your hair hands-free!
I hope you enjoyed this cordless hair dryer review and happy drying!