In the midst of the summer season, is usually when women start to worry about keeping their skin safe. While we usually rely on sunblock or aloe vera to keep our skin protected and soothed, sun spots can still get the better of us.
Fortunately, there is a lot of evidence that we should be using animal oils to keep our skin looking young and healthy. Emu oil specifically has a ton of benefits and helps heal everything from acne scars to aging skin.
And it's not just a miracle worker on your skin, Emu oil has loads of other impressive health benefits. If you've ever wondered what it can do for your skin, check out my in-depth Emu Oil review!
What is Emu Oil?
Emus are Australian birds. Aborigenous people discovered that the fatty oil secreted by these birds is chock-full of nutrients and nearly miraculous in its properties. They use it as an anti-inflammatory to heal wounds and as a restorative lotion on burned skin.
The exact contents of the oil will depend on the processing method, but it's generally made up of about 60% unsaturated fatty acids, including omega 9, omega 4, and omega 6 fatty acids. This rich combination of fatty acids is what gives emu oil its unique host of health benefits.
What Does Emu Oil Do?
Emu oil is most widely used as a topical oil to treat a variety of skin conditions. The most common uses for the oil today include:
Emu Oil For Skin
Anti Aging – This oil deeply penetrates dry skin, which reduces the look of fine lines and wrinkles.
Acne Scarring – It works quickly to heal and soothe wounds, and reduce the appearance of scars.
Stretch Marks and Scars – Animal fat oils are great for minimizing scars, and emu's high-fat content makes it work quickly.
Cuts, Scrapes, and Burns – Because this oil has anti-inflammatory properties, it has been found to work well in place of an antibacterial ointment.
Sun Protection – It's great for protecting skin from sun damage and reducing redness and sun spots on the skin.
Other Skin Conditions – It's been known to help with: Athlete's foot, diaper rash, severely chapped lips, psoriasis, & eczema.
Emu Oil For Hair
Dry scalp & Dandruff – It nourishes a dry scalp, reducing the appearance and itchy side effects of dandruff.
Split Ends – It acts as a fortifying agent for your hair to repair split ends and add healthy shine
New Hair Growth – Some evidence suggests the fatty acids in the oil help stimulate dormant hair follicles promoting hair growth.
Other uses For Emu Oil
Aching skin, and inflammation – People who suffer from arthritis or painful joints use emu oil to soothe skin topically, and massage therapists use it often.
Lower Cholesterol – Emu oil is used in combination with glycolic acid to lower blood fats like triglycerides
The Flu – People apply it inside the nose to reduce the swelling and relieve symptoms
Headaches/Migraines – Its anti-inflammatory properties can relieve those suffering from intense head pain
Who Should Use Emu Oil?
As you can see, emu oil helps with a variety of conditions that affect millions. It's important to talk to your doctor about any serious medical issues you're facing, however, for minor issues this oil is a great home remedy.
Most Emu oil users are people who are looking for an inexpensive way to treat and protect skin from aging and sun damage. Once they've begun using it for their skin, they often discover the other helpful properties and begin using it to treat cuts, or to condition their hair.
Now that you've seen how easy it is to use this oil for many of your beauty & health needs, let's check out which brands are the best!
Emu Oil Reviews
Blue- Emu is one of the most popular choices for fans of the emu's healing properties. Why is this? Although it isn't pure, Blue-Emu has a powerful soothing formula made up of Glucosamine, Emu Oil, and Aloe Vera. It's a great choice for anyone looking for the topical benefits of the oil with some extra hydrating effects.
This versatile formula is great for those with pain in the back, neck shoulders, knees, hips, feet, ankles, and hands. It's also a great hydrating moisturizer for weathered or chapped skin.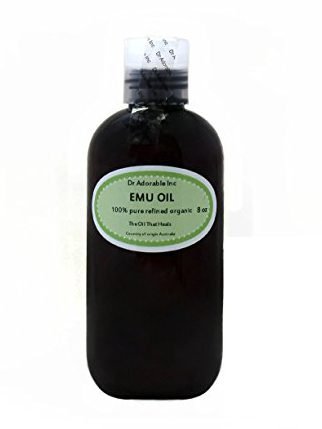 This pure Emu oil is triple-refined, so it's in a very pure and organic form. This oil naturally contains two of the most powerful antioxidants that fight damaging free radicals. This pure emu oil will make the skin soft, and reduce the appearance of wrinkles and aging skin.
It is also great for everyday first aid, because it heals scars, burns, and skin irritation easily. It also soothes the skin by reducing inflammation so that your skin feels better as it's healing.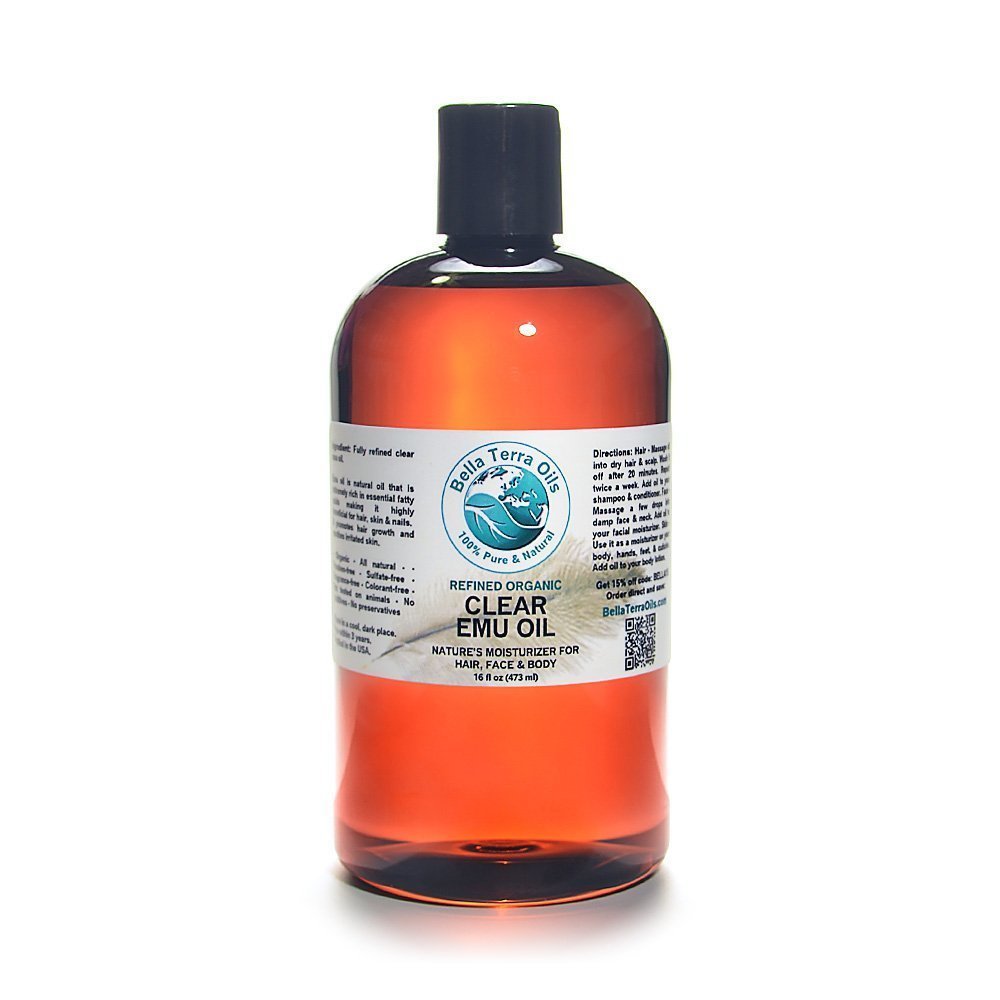 Ultra clear emu oil is a great choice for hair, skin, and nails promotes hair growth, and nourishes the skin. You can massage into skin on the face and hair, by adding it to your daily moisturizer or conditioner.
Since a solid portion of the oil has been removed by filtering, this oil has a clear, lighter feel. Because this oil is a lighter color, it's great to use if you're afraid other oils may stain your clothes or bedding.
If you're just looking to use emu oil for the anti-aging benefits, consider using a face cream like this one from Emu Essence Naturals. Its fragrance-free formula is a great choice for sensitive skin, and it feels amazing.
It's very lightweight so it won't clog your pores. Use this before going out into the sun, and afterward to soothe any irritation or sun damage.
If you're looking to take emu oil for the added health benefits, you don't have to apply it topically. You can take it as a supplement to support heart and vascular health. Look for a supplement made from 100% pure emu oil.
This supplement from Thunder Ridge contains 750 mg of essential fatty acids, without any of the bad fats. Just one serving will give you the recommended daily amount of essential fatty acids to stay healthy!