Cellulite is one of those stubborn issues that drive us crazy! And if you think you're alone, you're not! No matter your size, most women will experience some form of cellulite on their legs, thighs, or stomach over the years.
Many people think their cellulite is really noticeable and would love to minimize the look of dimpled fat. But since spa cellulite treatments cost an arm and a leg, many turn to DIY solutions. So what's the best way to get rid of cellulite at home? In my opinion, with the help of a tool called the Sonic Lift cellulite remover.
In this list of Sonic Lift cellulite remover reviews, I'll show you which tools will help you reduce the appearance of cellulite in the privacy of your own home!
What Is The Sonic Lift Cellulite Remover?
The Sonic Lift Cellulite Remover is a brand of hand-held cellulite removers, that smooths the look of dimpled fat on skin. It also improves skin's texture, prevents future wrinkles, and tightens skin at the same time.
There are now several brands of these tools on the market to choose from. Though they have different names, they all refer to themselves as a sonic lift cellulite remover tool, because they use the same technologies as the original.
How Does The Sonic Lift Cellulite Removal Tool Work?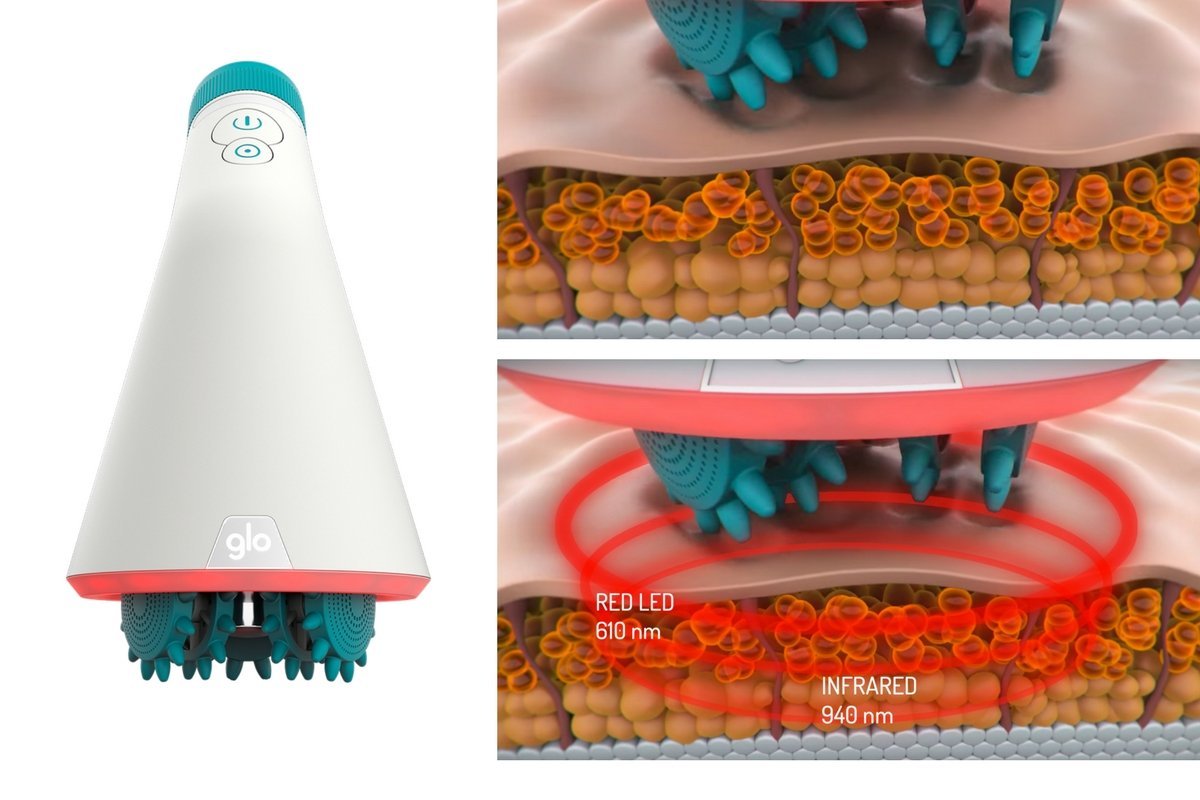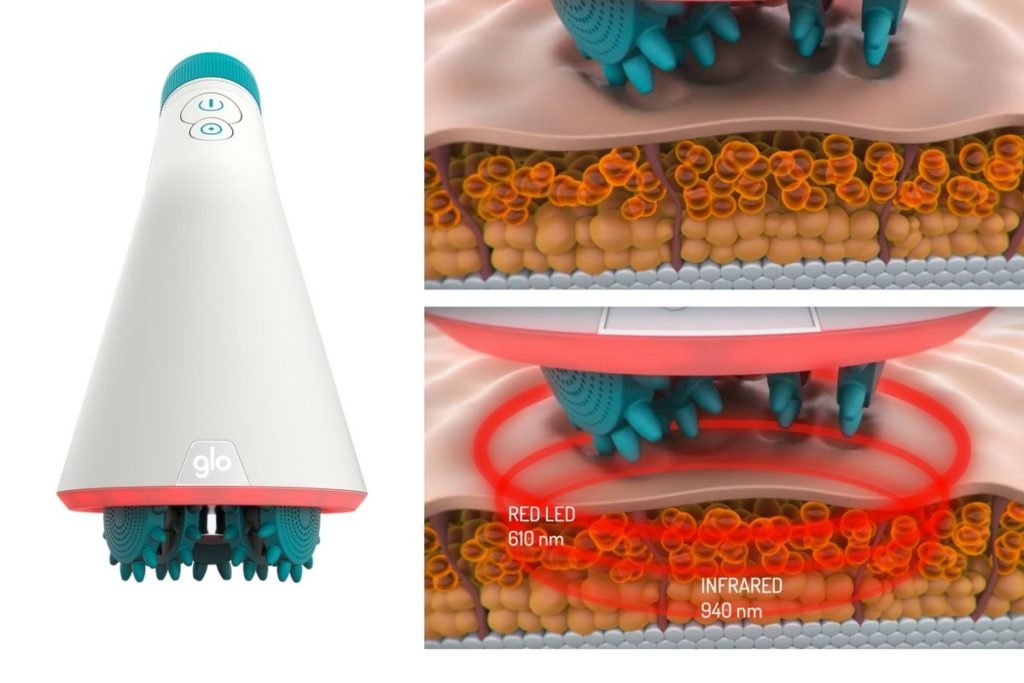 All of these cellulite removal tools use two key technologies to smooth skin.
They combine ultrasonic waves with infrared light, which encourages blood flow underneath the fat layers. With regular use, these fat deposits start to break down, leaving you with smoother firmer skin. Some people call this ultherapy (as in "ultrasound therapy").
So does it really work? According to this article by Women's Health Magazine, infrared technology combined with mechanical massage treatments is one of the most highly effective ways to target stubborn cellulite. While salon treatments work faster, these at-home tools still provide great results quickly. Some models use microcurrents to tone your skin, much like what a NuFace device does for your face (check out my NuFace review here).
So what are the benefits of using one of these devices? At the end of the day, it makes your cellulite way less noticeable! These cellulite removal tools are great because they're minimally invasive (no pain or downtime) and they're easy to use.
The 5 Best Sonic Lift Cellulite Remover Reviews
Here are the top cellulite remover tools that will help improve the look of cellulite over time. Each one combines infrared light technology with sonic massage, to smooth your skin in cellulite-prone areas. With consistent use, you'll be able to achieve and maintain fabulous results.
After reading a bunch of Sonicfit reviews online, I decided to try it. It uses a combination of infrared light to produce heat and microcurrent to stimulate the skin's tissues and—allegedly—to burn the subcutaneous fat.
Here's my Sonicfit review after using it for a few weeks:
My initial impressions of the Sonicfit were mixed. On the plus side, it is lightweight and easy to handle. There are three different modes you can choose from depending on whether you want to target wrinkles, fat, or skin lifting. It was simple enough to turn on the device and scroll through the modes, increasing the intensity as needed. However, the product itself doesn't really explain how to use it properly or what the different intensities feel like. It took me some trial and error to figure out that you need to apply a conductive gel before using it and that the "skin tightening" mode feels the most zappy. The device turns off automatically after 15 minutes, which is the recommended duration for a session.
While using the Sonicfit, I found the size of the square treatment head to be both a pro and a con. It works well for larger areas of the body but is awkward for smaller or contoured areas like the neck and face. I also kept accidentally changing the settings while holding the device. It would be great if there was a way to lock in your chosen mode and intensity. The heating function provides only a gentle warmth and is easy to turn off if desired.
Now for the most important question – does Sonicfit produce real results when used consistently?
I do think my skin feels smoother overall but, unfortunately, it's simply too soon to tell.
The manufacturer claims it could take a few months of regular use to see improvements in body contouring and skin tightening. This seems to be on par with professional radio frequency and light therapy treatments that also require multiple sessions. I plan to use it diligently for at least 2-3 months and report back on any noticeable effects.
Check Price
The Glo910 is one of the best sonic lift cellulite removers because it comes with 4 targeted interchangeable heads. It has a powerful massaging sonic motor and uses exclusive Slim Tech photo-luminescent technology. These options make it a highly effective tool, but it's also one of the more expensive at-home solutions.
Check Price
This Sonic lift cellulite remover by Todd Copper uses high-frequency vibrations and ion lights to reduce the look of fat. It has 5 different speeds of EMS vibrations: Tapping, Massage, Knead, Scrapping, and Sliming. It also has a standard red LED light to target skin's elasticity and a blue light that helps prevent acne. Finally, it comes with a pair of EMS gloves that make it easier to target key areas like the love handles.
Check Price
This ergonomic style sonic lift cellulite removal tool looks a lot like a regular handheld massager, but it does so much more! The Hansilk rechargeable massager uses high-frequency vibrations for ultherapy, and red lights to activate the skin cells around stubborn cellulite. This increases blood flow to the area and allows your body to metabolize the fat cells in the area. It has three levels of vibration, and the handle makes it easy to target hard-to-reach areas like the inner thighs.


Check Price
The VOYOR sonic lift cellulite remover is one of the most affordable ultherapy devices on the market. While it's not quite as powerful as some of the other models, it's got three awesome attachments making it very versatile. This massager has three speed levels, and two rotation directions to help you achieve the perfect formula for your body. It's also waterproof, making it a great device to use during bathtime. It seems to me that using a cellulite remover when my body is hot makes my skin even smoother – it could just be my imagination, though!
Check Price
Which One Is The Best Sonic Lift Cellulite Remover?
The best overall is the Glo910 IR Anti Cellulite Massage Machine.
This sonic lift cellulite remover wins because it's the most powerful, and the 4 attachments make it very versatile. It's the device that's designed to target cellulite the most heavily, and most people experience great results within the first few weeks.
Check Price
If you can't shell out for the Glo910, the Hansilk cellulite massager is a great alternative. It doesn't have the attachments, but it's still affordable, easy to use, and effective.
Tips For Using Your Sonic Lift Cellulite Remover:
Always use on clean skin.
Start on the lowest setting until it's comfortable for you.
Treatment sessions should be 15 minutes or less.
Improve effectiveness by combining massage with a cellulite-firming cream like this one from Brazilian Bum.
Take photos every few treatments to keep an eye on your progress!