We've all been there. Split ends are making your hair look like a hot mess, but you don't want to throw money out on yet another simple trim or try to DIY it with a pair of scissors, especially when you're forced to stay home (like, say, in a pandemic). That's when a split end trimmer can really come in handy.
These handheld devices, also known as split end cutters and split end removers, quickly get rid of broken strands and split ends, leaving your hair looking much healthier.
I tried some of the best-known brands available online to find out which one is the best split end trimmer. Read on to see which one to get, and start saving on those salon visits!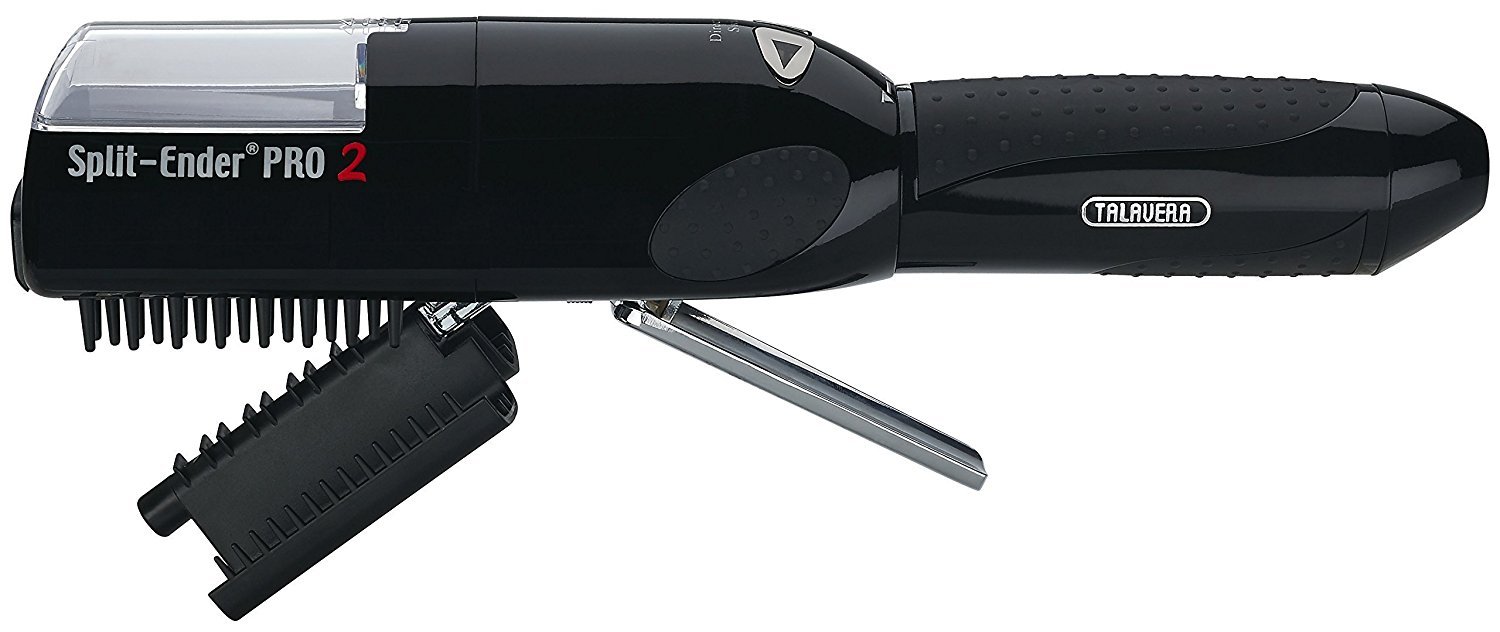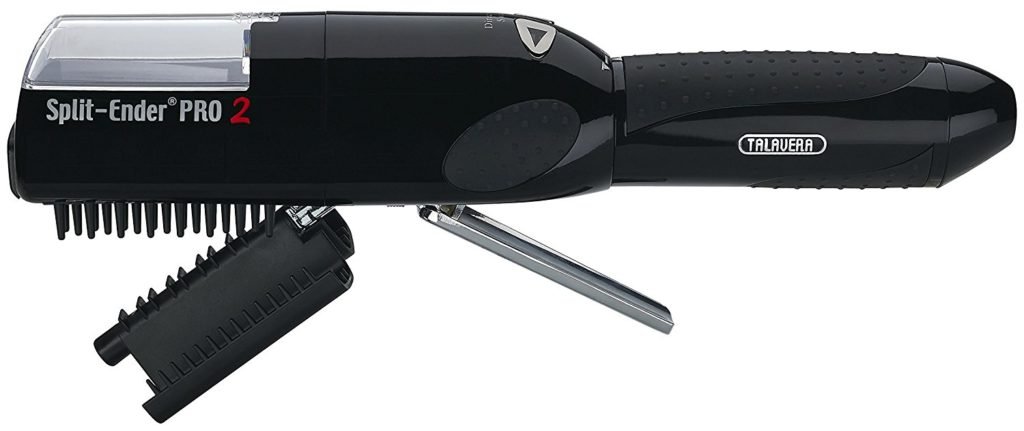 Check Price
The Split Ender Pro 2 is a tool that removes split ends in a snap. It was the original split end trimmer on the market, and it was the first split end trimmer I'd ever seen when one of my best friends introduced me to it.
The Split Ender Pro 2 has a fixed blade that snips the last 1/4 inches of split ends.
It's very easy to use (as easy to use as a flat iron I'd say). It's also waaay faster and better than trying to trim split ends using a pair of scissors. Don't ask me how I know!
In terms of usage, you definitely want to work in small sections, working your way around your head. I usually start from the bottom and then work my way up if needed.
It works remarkably well, and you'll see a difference after the very first pass. I was kinda shocked, to be honest.
Even with a split end trimmer, I think patience pays off, and if you take your time, you can get some really amazing results.
Pair a little trim with a keratin treatment, and you'll look like a million dollars (more than one friend asked me, over a Zoom call, how I was able to get my hair done!)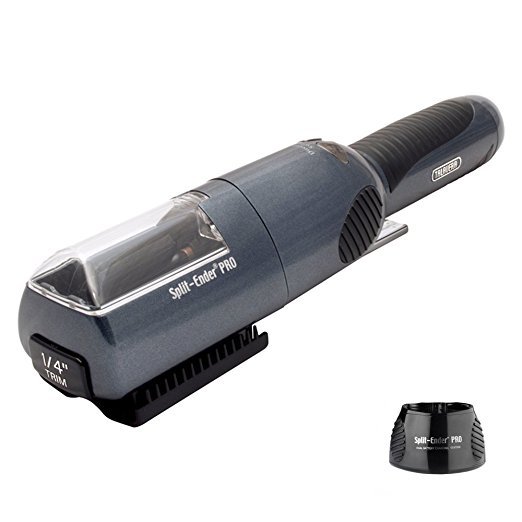 Check Price
The Split Ender Pro is like the fancy version of the Split Ender Pro 2 (confusing, I know). This one actually has two different trim configurations, so it can trim either 1/4 inches or 1/8 inches off your hair.
I definitely like having two settings, since I have sometimes felt that I would have to wait for my split ends to actually get a little worse before I wanted to use the other split end trimmers on them, just to avoid losing too much length.
It comes with a cleaning brush, styling comb, two hair clips, and a carrying bag.
Overall the Split Ender Pro is pretty much exactly like the Split Ender Pro 2, except for the two trim length settings, and for the price: while this is a little more expensive, in my opinion, it's totally worth spending the extra money for the added flexibility.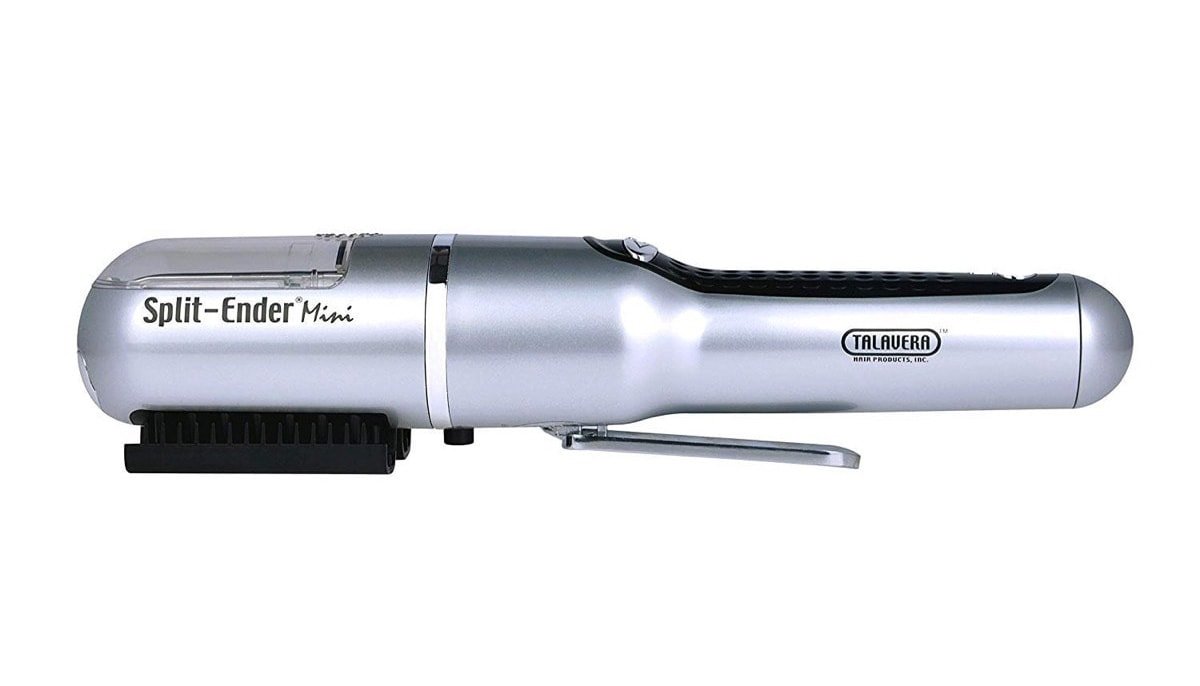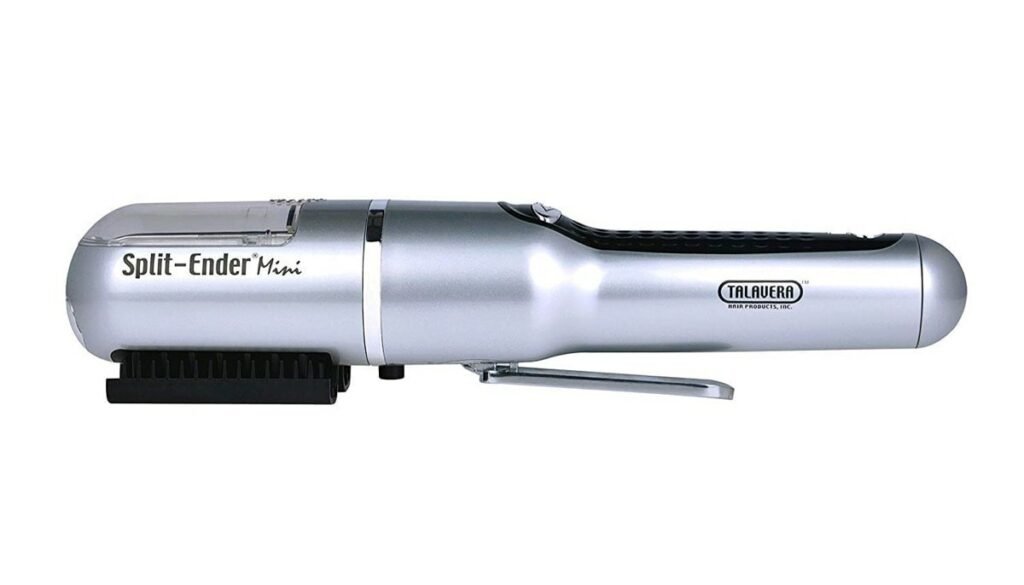 Check Price
The newest addition to the Split Ender family is the Split Ender Mini.
This split end remover is the tiniest of them all, and it's quite a bit cheaper as well. But is it the best split end trimmer in general?
It's pretty bare-bones in terms of features, and this particular trimmer seems to be cutting only about 1/4″ of hair with each pass.
You'll have to do at least 3 (and up to 6) passes per strand to get noticeable results, depending on how many split ends you have.
Due to its smaller size, the key to getting good results with the Mini is to divide your hair into smaller strands. I recommend about the amount of hair that would fit in a straw.
Unfortunately, what this means is that, when compared with the PRO, it will take you quite a bit longer to trim all your split ends with the Mini. While I have to add that I tried this product when my hair was pretty dry and damaged, it took me a whole 2 hours to do all my hair.
Another caveat is that the 3 AAA batteries that this trimmer comes with seem to run out very quickly (mine lasted about 1 hour before it stopped working)!
So make sure you invest in some decent AAA batteries, preferably rechargeable.
If your hair is badly damaged, I would only get the Split Ender Mini if you really can't afford the extra money for the PRO, because it would take a lot of patience to get all of your split ends with this.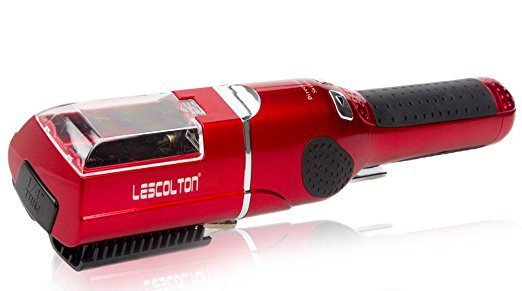 Check Price
The Lescolton Split End Trimmer is an automatic split end remover that works pretty well to rid your hair of unsightly ends. The Lescolton does tend to take a few more passes through the hair to achieve the same results as the Split Ender PRO.
Some people actually consider this a feature, since it does give you a little more control on how aggressive you're removing hair. IMO, though, the best split end trimmer is the one that does the job as fast as possible, as these are not styling tools per se.
While I haven't had any problems, I read some people had reliability problems with the Lescolton, but possibly they're just happening with frequent users.
That said, this is the cheapest option, so if you're on a budget, it may be worth a shot.
Which One Is The Best Split End Trimmer of 2023?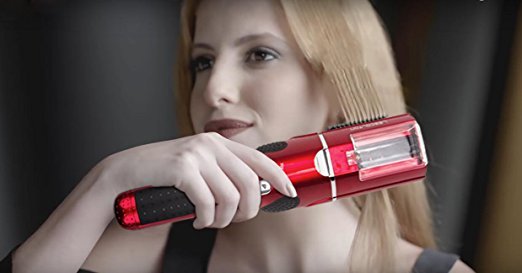 Check Price
The Split Ender Pro is the best split end trimmer bar none. It works the fastest, has the two different length settings and is the quietest (surprisingly important when you'll be spending quite a bit of time with it working away right next to your ears!)
How to Use a Split End Trimmer?
Make sure your hair is clean and dry. Don't use any conditioners or products before you begin.
If your hair is curly or wavy, it's best to straighten it before using the split end remover. Results will be more even this way.
Divide your hair into small strands.
Open the hair plate and select the correct arrow (it needs to point to the floor).
Clamp your hair in the trimmer and slowly run it down the length of the hair.
Repeat running over the same strand as much as needed. The instructions recommend 3 times, but I've had to run it a couple of times more on particularly dry patches of hair.
I use my split end cutter about every six to eight weeks, and I feel like this keeps my hair looking healthy without affecting the length too much. I notice I definitely have to use it more often if I straighten my hair a lot, so your mileage may vary.
Are Split End Trimmers Bad For Your Hair?
The short answer is no, split end trimmers are not inherently bad for your hair. That said, you have to understand that the way you use one is going to determine how good of a result you get.
If you think that you're going to race through huge chunks of hair and be done in 10 minutes, you'll see a lot of extra breakage (especially if your hair is thin), and you're not gonna be happy.
But, if you take your time, you separate your hair into manageable sections, and do multiple small passes, you'll probably extend the period between salon visits by up to months.
A split end trimmer is perfect if you're thinking of growing your hair longer, and you want to save money on salon visits while keeping your hair looking good in the meantime. If that's you, then you'll be happy with one!
Split End Trimmer Before and After
Check out the before and after in this video to see. IMO even with just one pass the difference is noticeable and it doesn't mess up your layers.
In Conclusion
Whichever split end trimmer you go with, your hair is sure to look less frizzy and healthier. It also will be more manageable. I surely am happy to have one (especially now!), and a good trim every few weeks is pretty much part of my beauty routine.
Hope this helps and happy trimming!